Bellagio Hotel 3 * (Greece, Chalkidiki, Kassandra): room description, service, reviews
Greece attracts tourists with its unique history, mythology and extraordinary beauty. In the northern part of the country is an unusual peninsula of Chalkidiki. In Greece, many natural objects, impressive fantastic landscapes, architectural monuments or world-famous shrines. The peninsula of Chalkidiki differs in that nature has created on it three more peninsulas - Athos, Sithonia and Cassandra. Their location and shape they resemble a trident.
According to Greek myths, this attribute of power once belonged to Poseidon. The god of the seas became angry, threw his scepter into the peninsula, and the coast split into three parts. One was given the name of the mermaid Pallini (Παλλήνη), while others were named after the brothers Athos and Siton, who could not be divided by this lovely maiden. Later, the Pallini peninsula was renamed Cassandra.That was the name of the king who wanted to perpetuate himself in this way.
The knowledge of this myth helps to tune in to the lyrical mood for those who choose a nice cozy Bellagio Hotel 3 * as their resting place, located in the most beautiful place of the Kassandra peninsula. Guest reviews about him are mixed. It depends on what everyone expects from their holiday. If you dream of an active pastime, visiting noisy discos and nightclubs, you should choose another hotel. If you plan to spend a week or two away from the bustle of the city, enjoying the aromas of the sea and pine needles, then you will not find this hotel better.
Location
Kassandra is the most western and most popular among tourists Halkidiki peninsula. Bellagio Hotel 3 * is built at the foot of the picturesque Mount Fourka (some say Fourkis), in the village of the same name. Nearby there is a road connecting Kassandra with the mainland. It is often run by buses, which can be reached in Thessaloniki. The center of the northern capital of Greece is just over 110 km away.
The village of Furki is very colorful, allowing you to fully experience the life and life of ordinary Greek people, but very small.There is only one central street, where several taverns, bars, shops and three convenience stores are located. All this is within walking distance of the hotel.
Regarding the location on the peninsula, the Bellagio Hotel is located on its western side, washed by the Gulf of Thermaikos, about 20 km from the Potidea canal, which separates Kassandra from the rest of the Chalkidiki peninsula.
How to get there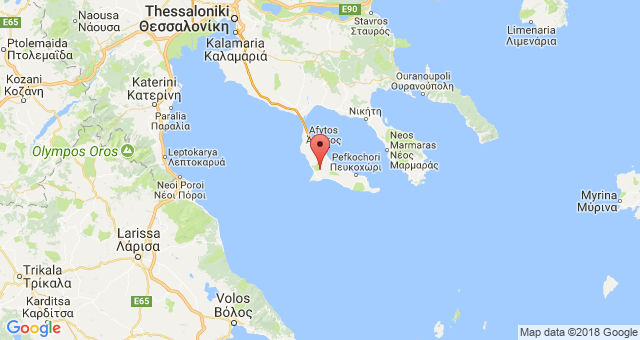 From Russia to Greece is faster and more convenient to travel by plane. From Moscow to Thessaloniki to fly only 3.5 hours. A one-way ticket costs from 3,650 rubles. Bellagio Hotel 3 * is located at a distance of 90 km from the airport in Thessaloniki. It is called "Macedonia". If you purchased a ticket to a travel agency, a comfortable transfer will be waiting for you at the exit from the terminal. The time it takes you to the hotel can be from 1.5 to 2.5 hours, depending on whether you will transfer to Nea Moudania (the city in front of the Potidea canal), and also whether transfer to take tourists to other hotels.
If you are traveling on your own, then you will have to get from the airport either with transfers, but cheap, or without unnecessary trouble, but expensive.The second option involves a taxi ride. Payment will be from 150 to 200 euros (as agreed with the driver). You can still order a car in Russia in the service "Qiwi Taxi". They have fixed prices.
A cheaper option involves traveling by public transport. First you will need to take the bus number 79 (stop near the terminal) and get to the IKEA stop. There, take the bus to the bus station on the Chalkidiki peninsula. Then take another bus to Kassandra (closest to Fourki), and from there get to the village and the hotel. In total, the cost of tickets will be about 25 euros.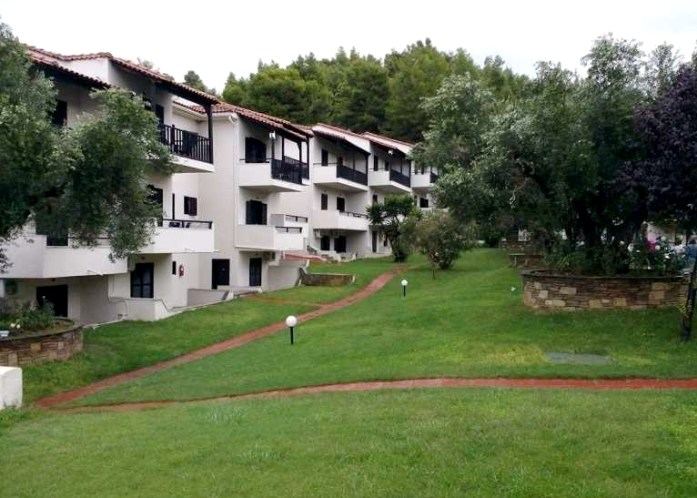 General Hotel Description
Bellagio Hotel3 * again began work after a large-scale renovation carried out in 2012.
It consists of several three-storied buildings constructed so that the windows of the rooms face either the mountain or the inner territory. By Greek standards, it is quite large at this hotel - 10,000 m2. All the tourists in their reviews say that the area is very well-groomed, clean and beautifully decorated. There is a wonderful garden in which olives, palm trees, bougainvilleas, rhododendrons grow. Magnificent roses are planted around the trees.There are many emerald-green lawns in the garden, and for those who do not like walking on the grass, there are paved paths. At night, the area includes color lighting.
At the main entrance (from the side of the road) there is free parking. In the courtyard there are infrastructure facilities and outbuildings. There is no security per se. However, outsiders here are practically non-existent.
Infrastructure
The great advantage of Bellagio Hotel 3 * is the hospitality and hospitality of its staff. Arriving tourists are greeted by reception workers. Among them are Russian speakers. Officially, check-in at the hotel starts at 15:00, but if there are rooms available, the keys are given out right away, without requiring additional compensation for this.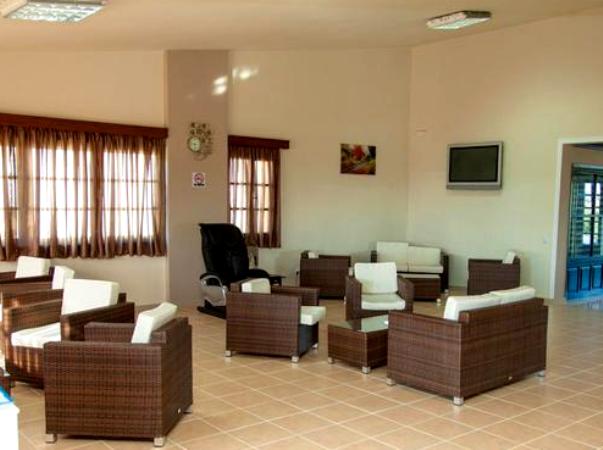 At the reception you can order a cell for storing money and documents (3 euros per day), hand in personal items for money, exchange money, rent a car, order a transfer to the airport, use fax.
In the comfortable lobby of the hotel there are soft armchairs, a TV set, there is a small shop where some goods for rest and souvenirs are offered. Free Wi-Fi is available throughout, including rooms.However, in the hours when many guests use the Internet, a good signal is only in the lobby.
At the entrance to the hotel, from the courtyard side, there is a wonderful veranda equipped with tables and wicker chairs with soft pillows. Here many people like to relax.
General description of rooms in Bellagio Hotel 3 *
For accommodation the hotel offers its guests 84 rooms. In fact, they all have one standard category, differ only in size and number of beds.
Some travel agencies offer tourists to reserve a double or triple room, depending on how many family members are going to rest. At the site it turns out that all rooms with the standard mark are the same, have a total area of ​​20 m2. For two vacationers available either one double bed or two single beds. For three people in the same room size, the staff set up another single bed or a folding bed.
Numbers marked "family" differ from the standards in that their area is 25 m2as well as the fact that they are designed to accommodate four people (with or without children), so there are either two double beds or a double and two single beds.There are also options with bunk beds designed to accommodate children and teenagers. All family rooms are single.
Many tourists who lived on the ground floor note that the rooms here are equipped with wonderful verandas, from which you can go directly to the garden. Spacious balconies are located on the upper floors instead of verandas.
Hygiene rooms in the rooms are small in size. Bath in them there, only a shower with a curtain. From hygiene products are provided only toilet paper and soap.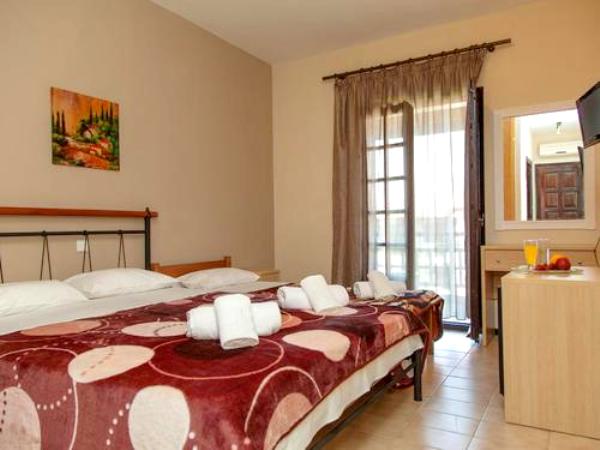 Room facilities
Most tourists have no complaints about the conditions of accommodation in Bellagio Hotel 3 *. In Greece, mainly in all hotels of the three-star category, the design of the rooms is very simple and consists of marble floors, painted with a single-color water-emulsion paint (does not get dirty) walls, the minimum set of furniture. The same is waiting for you at the Bellagio Hotel. Windows, as such, in the rooms there. They are replaced by high and wide glass doors to a balcony or veranda. Designs are made more comfortable by paintings by local artists that adorn the walls in each room.
From equipment to tourists are offered a built-in wardrobe, modern beds, a mirror, a table, a couple of chairs, a plasma TV, a small refrigerator, air conditioning.
Maids clean and change towels every day, and bed linen every three days.
Food
There is no restaurant in the hotel, but there is a spacious dining area. Tours to Bellagio are offered with the Al catering system, which means getting free lunches, lunches and dinners. However, many tourists are advised to take only breakfasts so that there is an opportunity to devote more time to traveling around the peninsula of Halkidiki.
In Bellagio Hotel 3 * meals are organized on the principle of a buffet. For many tourists, it causes complaints. First, the range of dishes here is not particularly wide. Secondly, if the products on the serving tables end, they are no longer replenished. But you can bring your own drinks.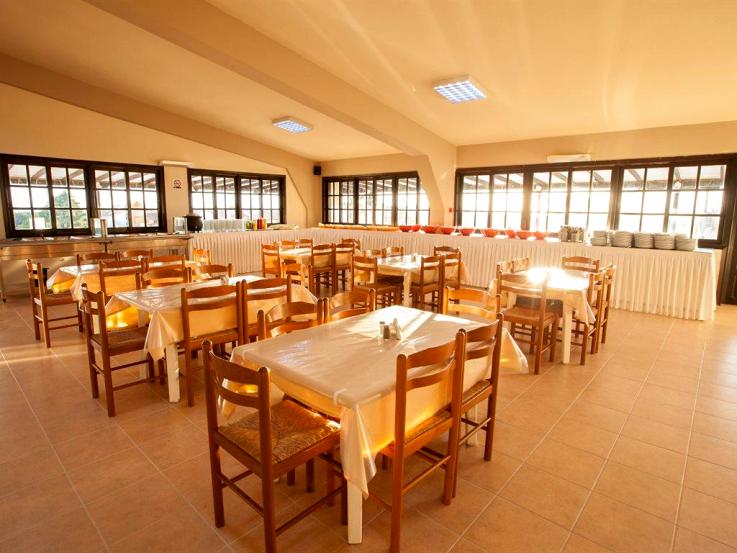 For breakfast, the hotel offers sausages, ham, cheese (1st grade), scrambled eggs, boiled eggs, sweet rice porridge, jam, buns, coffee, water, tea, juice.
For lunch and dinner in the menu chicken, sometimes fish and pork, pasta, potatoes, sliced ​​vegetables, salads, dessert, fruit.
In the lobby and around the pool there are bars where you can take local and imported drinks, snacks.
Service for children
For kids in the Bellagio Hotel 3 * equipped with a small children's pool with a water slide. In the garden for them built a playground with swings, slides and a small house.It is located near the pool.
Parents can bring a baby cot to the room upon prior request.
There is no children's animation in the hotel. Parents should entertain their heirs independently.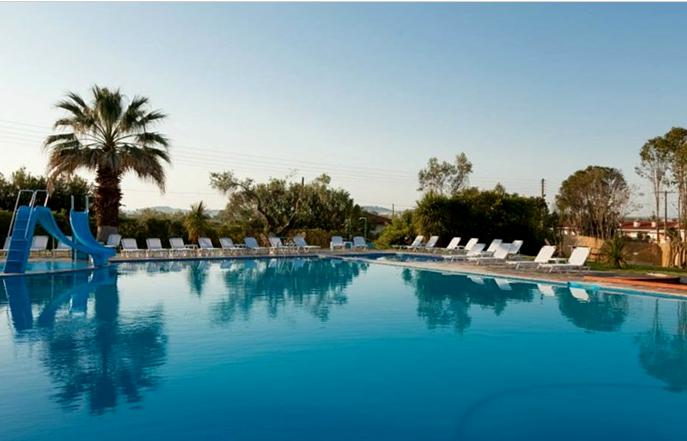 Services for adults
The service at Bellagio Hotel 3 *, as noted by all tourists, is unobtrusive, but well organized. Literally, each hotel employee, by virtue of his professional duties and kindness, seeks to provide tourists with a good rest.
On arrival for tourists who are late for breakfast (lunch, dinner), be sure to leave food. A welcome bottle of wine awaits them in the rooms. Give wine and on departure.
Entertainment in the hotel a bit. For guests is equipped with a spacious and deep pool, surrounded by large umbrellas and comfortable sun beds (without mattresses).
The territory is equipped with one universal platform where you can play basketball or football. If desired, it becomes a tennis court. Balls and rackets are free.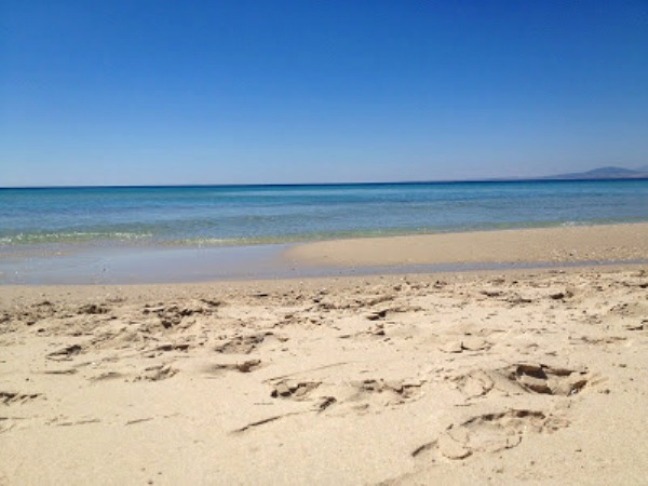 Sea
The nearest beach from Bellagio Hotel 3 * is located five hundred meters away. Recall, it is located in the Gulf of Thermaikos. To get to it, you need to cross the road, go through the whole village and turn right.The beach is small, almost not equipped, cleaning is not carried out on it. The surface is sandy, entering the sea is uncomfortable - there are too many stones of different sizes at the water's edge.
If you go the same way from the hotel, but turn to the left, you can get to a more refined village beach. It is more than a kilometer away, but there are cafes, sun beds, umbrellas. This beach is cleaned, and entry into the water is more convenient.
If you are not afraid of travel by bus, you can choose a more suitable place for a beach holiday. On the Halkidiki Peninsula in Greece, a lot of wonderful places for recreation.
In all respects, good beaches "Kalithea" and "Kriopigi", located near the villages of the same name. Here is a beautiful white-yellow sand, crystal clear sea, there is a beach entertainment. Nearby on the waterfront dozens of bars and taverns work. To get to these beaches, you only need to move to the opposite side of the peninsula, washed by the bay of Kassandra. From this coast Sithonia is clearly visible, and in clear weather the summit of Mount Athos.
If you choose among the more remote beaches, you can call "Afitos", "Paliouri" and others.
Peninsula Entertainment
What to do to guests of Bellagio Hotel 3 * in Kassandra? If you are not planning long trips around the region on vacation, you will not be bored on the peninsula either. Here is a paradise for lovers of nature and hiking. Located a stone's throw away from the hotel, the Furka Mountain, which is a natural reserve of the region, will give you a lot of unforgettable impressions from walks along forest paths. Here you can organize an excellent photo shoot, see dozens of unusual plants.
Fans of a noisy and fun holiday can spend time in Caliphea, which is about 12 km from the hotel. This resort is not only one of the best beaches, but also several night bars with live music.
Fans of antiquities can visit the sanctuary of Zeus, located all in the same Caliphia, go to Nea Fokia, admire the chapel of St. Paul and the tower with which he preached, visit the temple of Poseidon, located on Cape Posidi. In general, the rest on Kassandra is calm and measured. This region - Halkidiki - is more famous for its natural beauty than entertainment centers.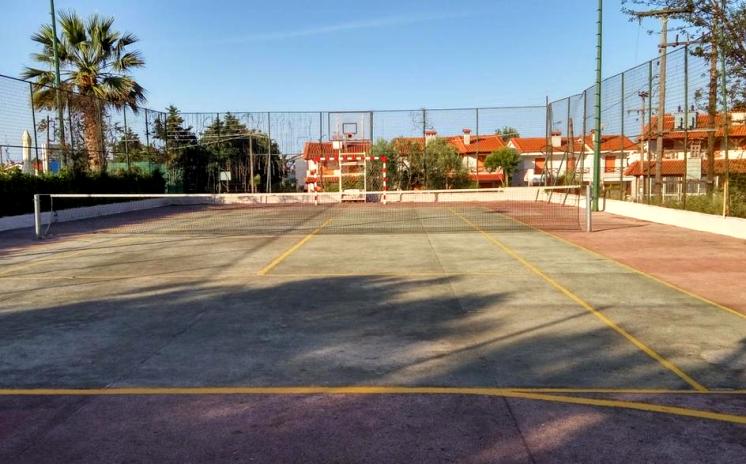 Excursions
To get the most out of the impressions of a holiday in the Chalkidiki peninsula, hotel guests can take a lot of interesting excursions.The trip to Meteora, where you can see monasteries built on inaccessible rocks, is very popular. This tour takes almost all day.
On the sea, you can take a walk around Mount Athos and admire from afar the legendary mountain and its monasteries. Fans of shopping (especially fur coats) must go to Thessaloniki. Here are organized excursions to fur factories, where you can buy fur coats at a discount.
At the Bellagio Hotel, you can make an appointment to visit the Grecomed Medical Center, which offers a shuttle service.
An interesting trip will be to the village of Petralona, ​​near which the famous cave is located, in which traces of the most ancient primitive man were found.
You can also go to the neighboring peninsula of Sithonia, where there are many unique attractions. In addition, there is a casino on this peninsula, and nightclubs operate in the village of Nea Marmaris.
Reviews of Bellagio Hotel 3 *
The opinions of tourists about this hotel are different. Those who were looking for silence and dreamed of relaxing in a beautiful place, enjoyed it here.
The advantages of such hotels marked by such tourists:
Excellent location (at the foot of a beautiful mountain, in a small Greek village).
Wonderful area (well-groomed, many flowers and trees).
Comfortable rooms (there is everything you need to relax, even free internet).
Delicious food (there is no wide variety of dishes, but the products are always fresh, cooked well).
Spacious swimming pool on site.
Near the hotel in the village there are shops where you can buy cheap fruit, any drinks.
Friendly and helpful staff, everyone is trying to make the holiday enjoyable.
Even the lack of animation such tourists consider a plus.
Youth and anyone who dreams of outdoor activities, this hotel will seem boring. Such people unwittingly begin to look for flaws. So, there are comments to the numbers (small area, only one category, there is no large selection of hygiene products, few outlets). In the diet, tourists did not like the lack of a wide choice of dishes (especially meat).
Most complaints about the beach. The nearest one is not suitable for families with children, as there is a bad entry into the water, and the more sanitized are far away.
Summing up, it should be said that Bellagio Hotel 3 * is ideal for a relaxing budget holiday for those tourists who are not looking for noisy entertainment.A tour for 7 nights for two can be bought here for just 59,400 rubles (with meals). For this money you will get a lot of unforgettable impressions and have a great time.
Related news
Bellagio Hotel 3 (Greece, Chalkidiki, Kassandra): room description, service, reviews image, picture, imagery