Felt - what is it? Description, properties and features of the application
What is felt? The material is used to create toys with their own hands, crafts, decorations, decor items. It is very easy to work with felt. In addition, in the assortment of shops for needlewomen you can find material with both a long and short pile, there are a lot of different shades available for sale. You can make educational and Christmas toys from felt, bookmarks, needle cases, dolls for finger theater, home decorations. Further information about this material, its varieties, advantages over other types of fabric, rules of care will be described in detail. Also offered several workshops on the manufacture of both simple and complex toys of felt, such as hot coasters, Christmas decorations, dogs and educational books for kids.
Raw materials and production
What is felt? This is a great material for a variety of crafts, making decorative items or clothing.The name of the fabric itself is generalized, there are many types of felt, which differ in composition, structure, appearance or purpose. As a raw material for the production of felt, as a rule, use natural, synthetic fibers or a mixture in different percentages.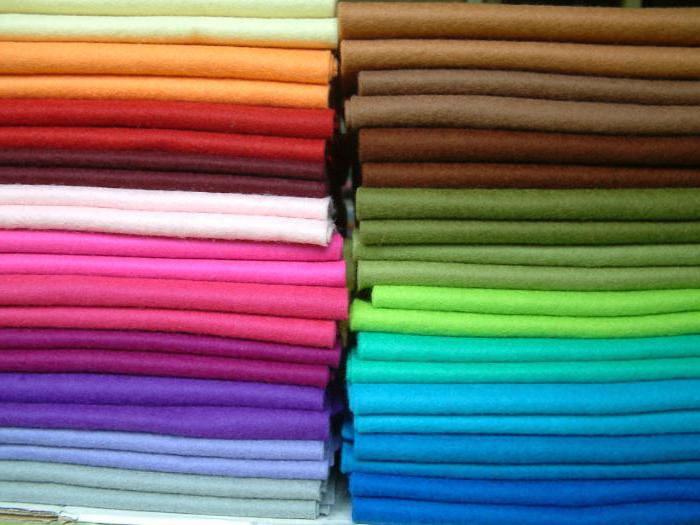 Natural material can be downy, woolen or downy-woolen. Down is softest of all, it is pleasant and tender to the touch, according to its characteristics it is considered the best. For the production of such felt is used fluff hare, rabbit, fox, muskrat and other small animals. Wool felt is a bit rougher and tougher than the previous one, but not inferior in its consumer properties. In some cases it is better to choose just wool material, as it surpasses other types, for example, in strength. It is made from goat or sheep wool of different quality. Down-wool felt is made from a mixture of down and wool in different ratios. The characteristics of the finished material depends on the percentage of fibers.
What is synthetic fiber felt and how does it differ from natural material? Felt can be acrylic or polyester.The first holds its shape well, but it is hard to touch and rather coarse, and polyester is a soft material that is not only cheap, but also has good consumer qualities.
Mixed materials are made from a mixture of different fibers. The quality of the finished felt is directly dependent on the percentage of natural and synthetic raw materials.
The main types of felt
According to the structure of the surface and the appearance of the felt can be nap or smooth. The length of the pile, located in a horizontal or vertical position, varies from 0.5 mm to 1.2 cm, which allows you to find a good solution for any crafts made of felt. In a smooth felt, respectively, completely smooth, lint-free surface.
Characteristics
The quality of the felt directly depends on the composition. The material made from natural raw materials differs in environmental friendliness, thermal conductivity (wool and down perfectly retain heat) and antibacterial properties (various microorganisms do not reproduce in natural materials). Any felt, regardless of composition, also has the following qualities:
durability and wear resistance;
ease;
no need to process the edges, as they are not showered;
variety of shades;
wide selection of fiber density and thickness.
Felt Scope
This comfortable and beautiful material is used not only by needlewomen who make felt toys with their own hands, interior objects or decorations. Felt is also used in the automotive industry (various gaskets, car upholstery), furniture industry (upholstery for upholstered furniture), machinery (filters, polishing materials, gaskets, etc.), the production of children's goods (decorative items for children's or soft toys).
Stand under the hot hands
You can make a variety of crafts from felt. One of the simplest options (for beginner needlewomen or those who want to try their hand at a new business) is a stump hot stand. You will need such tools and materials:
Several sheets of felt of three or five colors: light and dark brown, one or three different shades of green (from dark to light).
Thread floss in the color of light brown felt.
Scissors, needle, a piece of chalk.
Take a saucer of this diameter, what should be the finished stand, and circle on the felt. It is necessary to cut a few circles from light and dark brown material.Four enough to stand was dense enough. Now prepare the leaves that you can decorate stump-stand. It is enough to cut four leaves of different shades of green.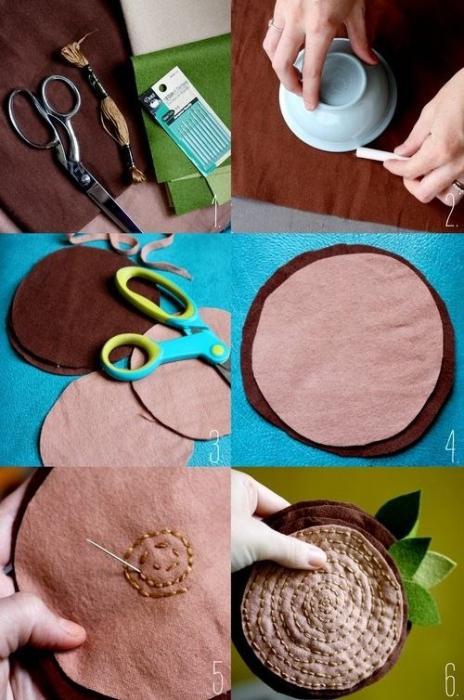 Next, fold the circles of dark and light brown felt, lay between them the leaves and sew spirals, starting from the center. Stitches do not have to be neat, they can be a bit messy, the appearance of crafts will not suffer much from this.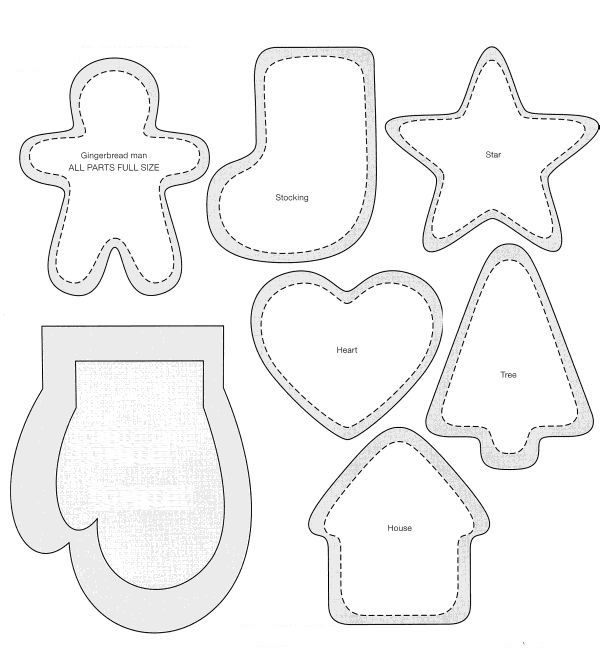 Felt Christmas decorations on the Christmas tree
Felt (what is this material, it was considered above) is great for making Christmas toys. There is room for imagination. For example, you can make traditional Christmas socks, reindeer, voluminous snowflakes and houses covered with snow, snowmen, mittens, stars or Christmas trees, a gingerbread man and colorful candy. It is enough to pick up the felt pattern you like, transfer it to fabric, cut out the details and sew the needle back with a muline thread with a seam. Edges do not need to be processed. Small pieces of toys can simply be glued, not sewn. Some examples of felt Christmas toys are presented in the photo.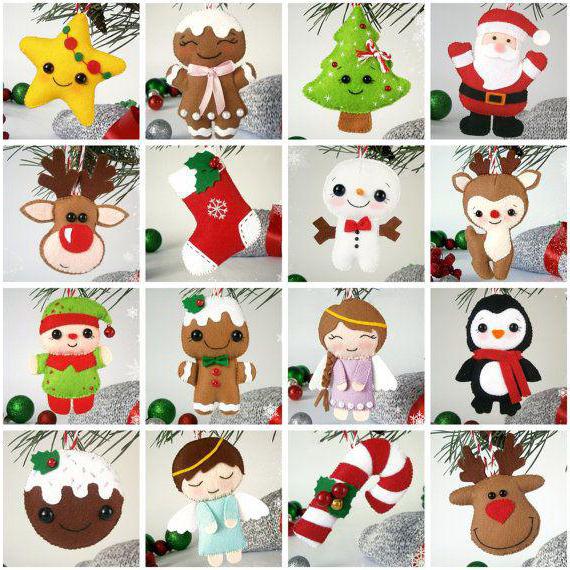 Educational books for kids
From this material it is convenient to make educational books for the little ones. Books made of felt are colorful and interesting, for a long time hold the baby. The simplest book - to study the colors of the rainbow. To make such a toy out of felt with your own hands, you will need a lot of material of different colors, threads and needles, textile fasteners (Velcro).
First you need to make a base. Decide how many colors will be in the booklet - as many pages need to be made. Cut the squares of the desired size (for example, 20 x 20 cm) of each color. Now you need to decorate them with matching color elements. For example, for a yellow page you can separately make a wasp out of felt, sun and chicken, for green - a cucumber and a frog, blue - a submarine, a cloud, a forget-me-not, purple - an eggplant, a butterfly, grapes, brown - a mushroom, a caterpillar. Sew a textile fastener with a seam to the back of the toys, fasten the second part of the fastener to the square of the base of the same color.
When everything is ready, put two squares together and sew along the edge. There will be pages where, on the one hand, there will be one color (for example, red), and on the other, the second (for example, yellow).It is possible to fasten the pages into one booklet by puncturing the two holes with a hole punch and passing a thin satin ribbon through them. On the first page of the book you can stick or sew a colored pyramid of felt and a few colorful decorative buttons. Buttons should be sewn very firmly so that the child does not tear them off during the game.
When the book is ready, attach all the decorative elements on the pages of the corresponding color. Educational felt toy is ready.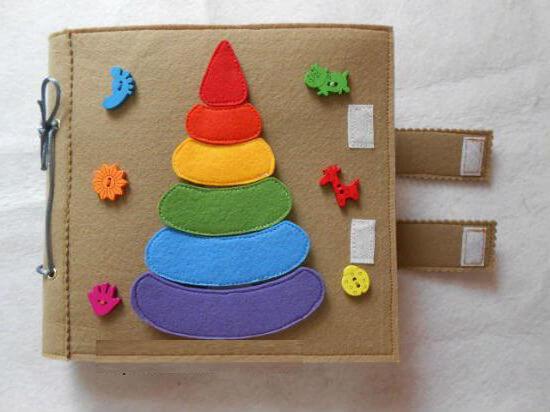 Felt dog: the symbol of 2018
Dogs of this material can be made very different. These toys made of felt with their own hands (the pattern of one of the simplest options below) will appeal to both children and adults. The easiest way is to cut out the details of the proposed pattern and stitch it together, but you can try making the dog more difficult.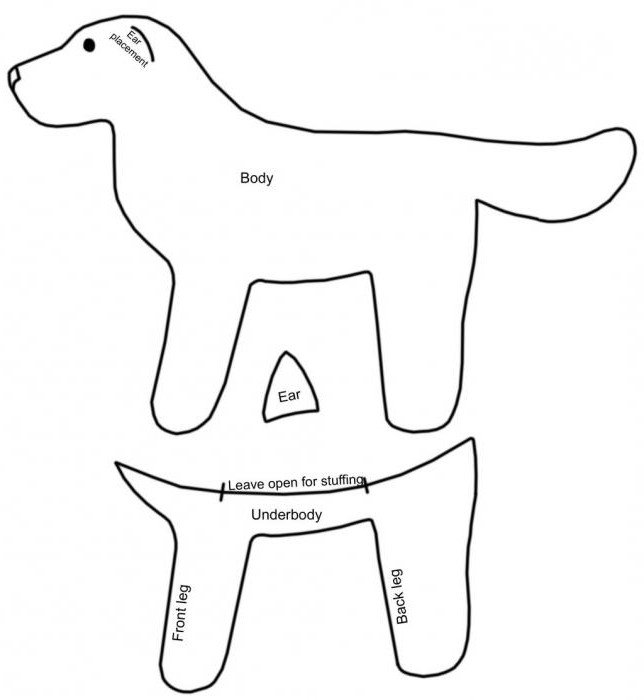 For such a toy, you will need light and dark brown felt, red (scarf), pink (for the tongue) and white (part of the muzzle) material, floss threads of the corresponding colors, scissors, plastic eyes (black buttons) and a spout. There are few details - two bases (body and head of a dog), four parts of the front paws, the same number of back parts,an oval of white felt for the face, tongue, two parts of the ears of dark brown felt, one for the spot on the face, one for the tail, a scarf of red felt.
First you need to sew between themselves in two parts of the paws and fill them with cotton, sintepon or other filler. Now sew on the front part of the body a dark spot in the place of the eye and a white face. Sew two parts of the dog's body, put the ears between them, tamp the part. Then it remains only to sew the front and hind legs with a secret stitch, bend and fasten the ears, sew the eyes-buttons, glue the nose and tongue. The dog can only "warm" with a red scarf.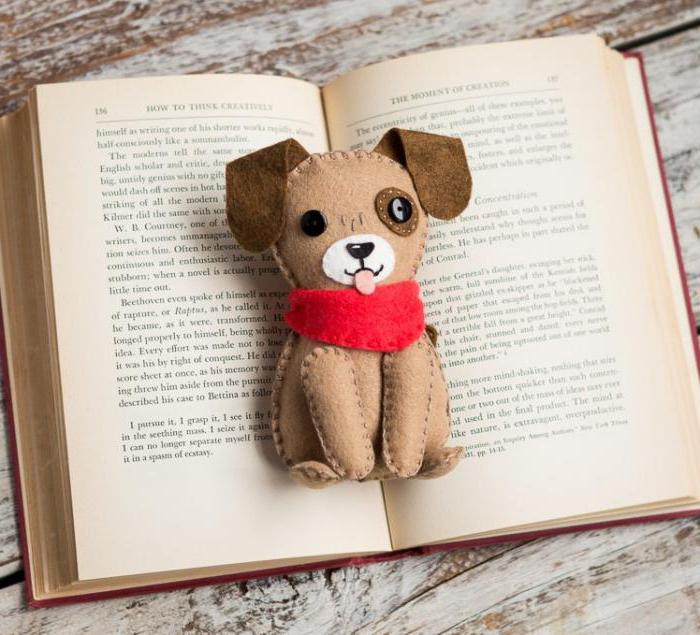 Care instructions
Any products made of felt can only be washed by hand at a maximum water temperature of 30 degrees. Before washing, the craft needs to be cleaned of dust with a dry brush or vacuum cleaner, but very carefully so as not to ruin the pile. When washing the felt, you should not use aggressive detergents and bleaches, enough household or children's soap. The material cannot be twisted or pulled out much, and should be dried only in natural conditions, that is, not in a dryer or near heat sources like central heating radiators.
Related news
Felt - what is the Description, properties and features of the application image, picture, imagery