How can you make sprats at home from capelin
Sprats from Soviet times in our country were a mandatory attribute of every festive table. They made sandwiches from them or put fragrant fish on the table right in the bank. A long time has passed since then, but the choice of dishes for serving in many families has remained the same. True, today these canned goods are not cheap. Therefore, for reasons of economy, some housewives have learned to make sprats at home from capelin. For this there are several original ways. As a visual example, it is worth considering some of them.
The simplest recipe
For starters, you can try the easiest recipe. To make real sprats at home from capelin, from the dishes you will need only a deep pan. In addition, you need to prepare the following products: 1 kilogram of fresh-frozen fish (capelin), 125 grams of sunflower oil, 250 grams of strong tea leaves, salt, 1 Bacon bouillon cube and slightly ground pepper.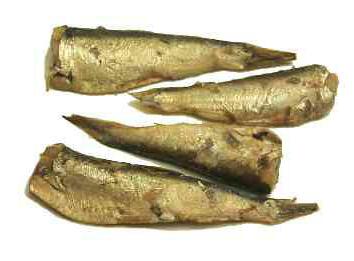 Cooking sprats at home from capelin is very simple:
First you need to wash the fish and sort out, cutting off only the head.
In a separate container to brew tea.
Prepared capelin folded into the pan.
Pour it with oil, tea leaves and leave in this state for 60 minutes.
Put the pot on the stove and bring its contents to a boil.
Make the fire minimal and boil the fish for about an hour and a half. The product can be considered ready as soon as the fish becomes soft enough.
The result is wonderful sprats at home from capelin. Outwardly, they are very similar to those purchased in the store.
Canned Multivarki
Today, many are trying to independently prepare sprats from capelin at home. The recipe for the multicooker will be useful for those who have such unique kitchen appliances.
In this case, you will need: 1 kilogram of fresh-frozen capelin, 10 grams of salt, a glass of water, 3 buds of cloves, 5 black peas and 4 allspice, 60 milliliters of sunflower oil, 3 tablespoons of soy sauce, 3 bay leaves and 5 tablespoons of tea brew.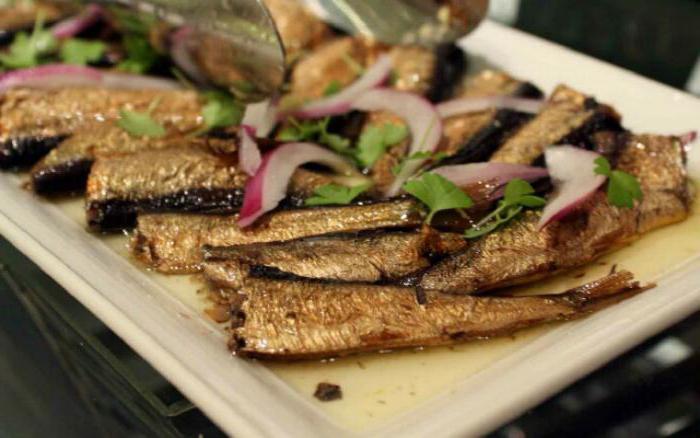 Cooking sprats is necessary step by step:
First you need to brew tea, give it a good brew, and then gently strain.
Defrost, wash and process the fish, removing the head and all the entrails from each.
Prepare the pot by collecting the oil, salt, tea leaves and sauce in one dish. There also add spices (pepper and Lavrushka).
Prepared capelin lay dense rows in the bowl multicooker.
Add a fragrant fill.
Set the "Quenching" mode on the panel and cook under the lid for 2 hours.
After the fish is completely cooled, it can be reached and tasted.
Dish from the oven
Using the oven, you can also prepare sprats from capelin at home. This option is very convenient. The dish is prepared inside the chamber and does not prevent the hostess from doing other things. She can only monitor the temporary mode.
For this method, a recipe is suitable that uses the following main ingredients: 500 grams of fresh (or frozen) capelin, 5 grams of salt, a tablespoon of black tea (you can take 2 bags), half a cup of sunflower oil, 1 bay leaf, ½ teaspoon of liquid smoke , 4 peas allspice and ¾ teaspoon of spices (ground black pepper, basil, thyme).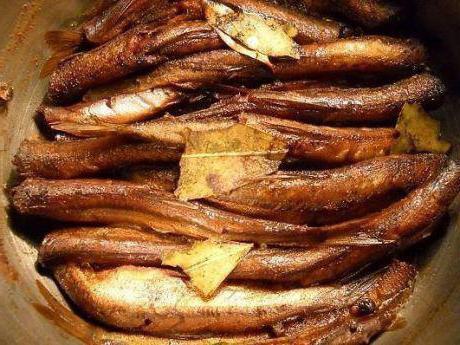 The whole process can be divided into several stages:
The first thing you need to defrost the fish.This should be done gradually and very carefully.
Bribe the capelin, removing the heads. The insides can be left if desired.
Rinse prepared fish, dry with a napkin and put in a baking dish.
Separately prepare a special pickle. To do this, you first need to brew tea (about cup), let it stand for about 15 minutes and strain. Then you can add all the other ingredients in the recipe.
Fish pour cooked pickle.
Put the form in the oven, heated to 200 degrees, and bring its contents to a boil. Wait 15 minutes.
Then the temperature must be reduced to 150 degrees. The fish should be stewed for another 2-3 hours.
As soon as all the liquid boils away, the process is considered complete. After cooling, golden fragrant sprats can be eaten.
Original recipe
There is another interesting option of how to cook sprat from capelin at home. A recipe with a photo will help to do everything correctly, controlling the work at each stage.
First you need to pick up all the necessary components: 500 grams of fresh (already purified) fish, 1 tablespoon of black leaf tea, 8 grams of sugar, 2 bay leaves, 60 milliliters of sunflower oil, 5 prunes, 10 grams of salt, 7 peppers of allspice and husk five onions.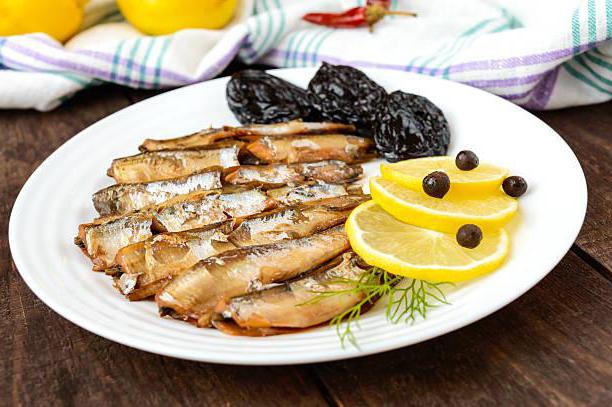 In this case, the cooking method will be as follows:
To thaw the capelin and to accurately process, having removed the heads, all fins and interiors. Prepared fish should be well washed and allowed to drain.
Brew tea leaves.
Husk pour boiling water.
Capelin folded tightly in shape.
Add spices, sugar, prunes and salt.
Pour the products filtered tea and oil.
From above distribute the husks in an even layer.
Cover the form with food foil and firmly hold the edges so that the air does not penetrate inside.
Bake in the oven for 20 minutes. At the same time inside the temperature should already be 200 degrees.
This is the fastest option with which you can cook sprats on your own at home, which are very similar in taste to those sold in stores.
Related news
How can you make sprats at home from capelin image, picture, imagery