How to cook chicken thighs in the oven
Dishes from chicken are very popular among world chefs. This is due to the fact that this meat is readily available, long stored and perfectly amenable to various heat treatment. In this case, the chicken contains two different types of this product, which are conventionally divided into dark and white meat. Each of them has its own optimal method of cooking and a list of recipes that are most suitable for him. However, such dishes are most popular in which it is necessary to bake chicken thighs in the oven. The fact is that it is this type of meat that absorbs various marinades very well, and thanks to the presence of bone inside it, it perfectly perceives this type of preparation. Also it is necessary to take into account the fact that the price of chicken is relatively small, which means that this dish can be available to everyone.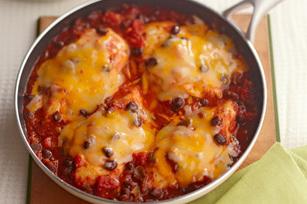 Ingredients
To cook the thighs in the oven, you will need:
- curry;
- mayonnaise - 400 g;
- salt;
- black pepper;
- chicken thighs - 4 pcs .;
- potatoes - 5 pcs .;
- onions - 3 pcs .;
- hard cheese - 300 g;
- tomatoes - 3 pcs .;
- mushrooms - 200 g;
Meat preparation
Chicken thighs must be cleansed from the skin. Then, using a knife, make a circular incision on the tendon and remove the bone. Then the meat is cut to get a flat layer, and a little beat off with a special hammer. It is in this form that chicken thighs in the oven will be cooked.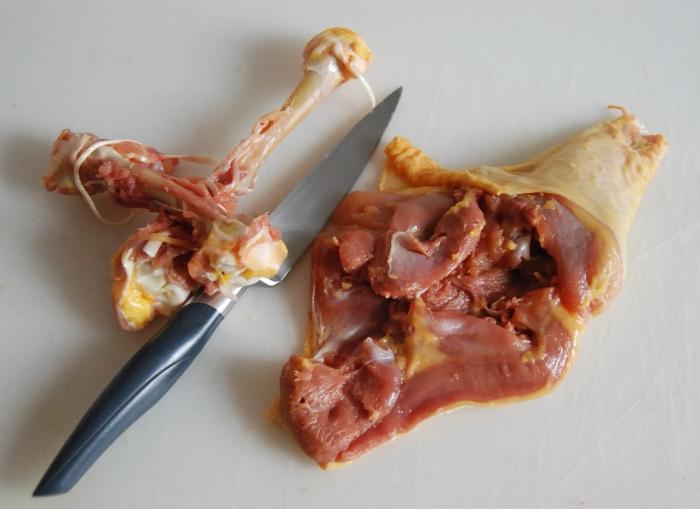 Preparation of vegetables and mushrooms
Tomatoes and potatoes are peeled and cut into slices. Onions are peeled and cut into thin rings, and mushrooms (mushrooms) are cut in half. Hard cheese must be grated on a coarse grater.
Pickling
After that, the meat is salted and allowed to stand for a while, then it is rubbed with pepper. Such a sequence will allow you to properly cook chicken thighs in the oven. Then mix curry and half of mayonnaise so that the meat will infuse for about an hour in this mixture.
Piling
Potatoes are laid out on a baking sheet with high sides in an even layer. And this is done in such a way as to completely hide its bottom. After that, lay out the meat. So that chicken thighs in the oven can be easily divided into portions, onions and tomatoes are put on top of each piece.Then the gaps between the meat are filled with mushrooms in order to completely level the surface of the entire dish. Top grated cheese and mayonnaise residues are poured. It should be borne in mind that the marinade is no longer used.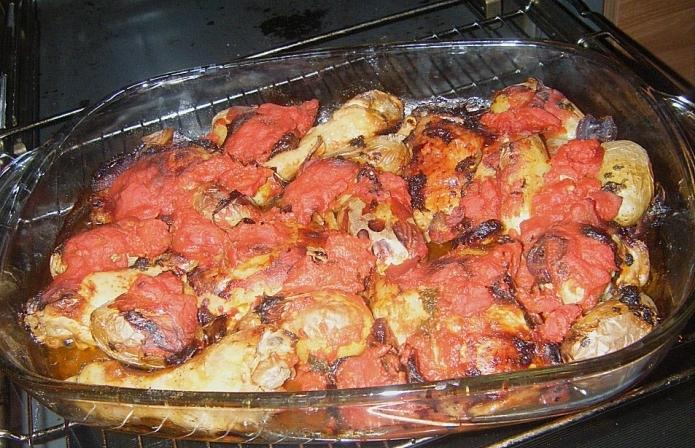 Baking
The baking tray is placed in a preheated 180 degree oven. To chicken thighs in the oven are well baked, they need to cook forty minutes. After that, the oven is turned off, and the dish is left inside, to reach due to the set temperature. After 15 minutes, it is taken out and cut into portions, which can be decorated with greens and even fruits.
Innings
To the table such thighs are served hot, as a main dish. Outwardly, it resembles meat in French, but its taste is completely different, with characteristic chicken juiciness, amazing smell and flavor of mushrooms.
Related news
How to cook chicken thighs in the oven image, picture, imagery