How to make a bouquet of toys? Bouquets of toys - master class, photo
A bouquet of toys is an unusual gift that every romantic girl wants to receive. Flowers and teddy bears in this design look very nice and original. It is easy for you to guess how to make a bouquet from toys, and the instruction will tell you how not to make a mistake in the algorithm of actions. The composition can include teddy bears, candy or live vegetation.
A bouquet of toys - beautiful and economical!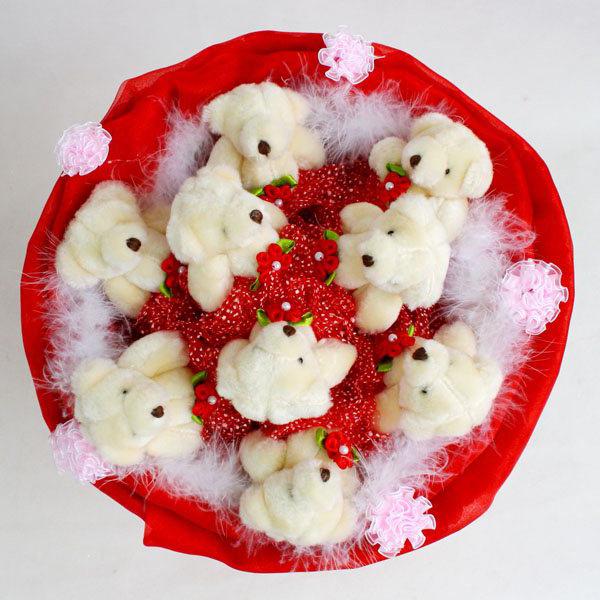 Once again, wondering what to give their girlfriend for a particular holiday, young people stop their choice on flowers, sweets and teddy bears. By purchasing these things separately, the guy lays out a large amount of money, because a bouquet of roses alone can cost a thousand rubles. Plush toys are a bit more expensive, and if you donate even the most elite sweets without a supplement, the beloved one can be offended.Found the answer to the most interesting question: "How to give a girl all the things she wants, and at the same time save?" All three "female weaknesses" can be included in bouquets of soft toys: plush animals, candies and flowers. Current manufacturers offer a ready-made assembly of the product, sometimes putting up their creations needlewomen, asking for a high price. It will be easy for you to make a bouquet of toys on your own, for this you need three main elements:
Several small teddy bears or other animals (estimated cost of each - from 50 rubles);
Flowers (in the store you can buy roses on a low stem, which will be sold to you much cheaper);
Candies. Choose truffles or raffaello.
Optionally, you can exclude one of the elements and ask how to make a bouquet of toys and sweets, or instead of sweets insert flowers into it. The maximum cost of such a gift will not exceed five hundred rubles at the rate of three small teddy bears, three flowers and five candies. If you increase the number of components of the bouquet, the price will be slightly higher, but it will not be compared with the large amount you would have to pay for a huge bouquet of roses, a toy and a box of chocolates.
Gift age limits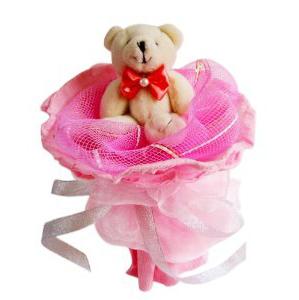 Everyone knows that to sweet and plush presents uneven breathe both little girls and already adult women. Thus, an exemplary family man can often give bouquets of soft toys to his beloved wife, who will be pleasantly surprised by such an unusual decision. Even if the composition loses its former shape over time, sweets can be eaten, and teddy bears should be given to children. Having presented such an unusual bouquet to a teenage girl, you will make her the happiest, and your gift will become the envy of her friends. If you are planning to get married soon, but do not know how to make an offer to your beloved, place the box with the ring in the center of the toy bouquet. The girl will melt from the tenderness that you give to her with this gift.
How much is a girl's dream?
Hand-made gifts were always worth their weight in gold, because the author puts all his soul into their production. If for any reason you do not have the opportunity to make a bouquet of toys with your own hands, order the product on the Internet, however, you will have to pay much more for this pleasure. Large suppliers offer gifts for every taste and color to the attention of buyers.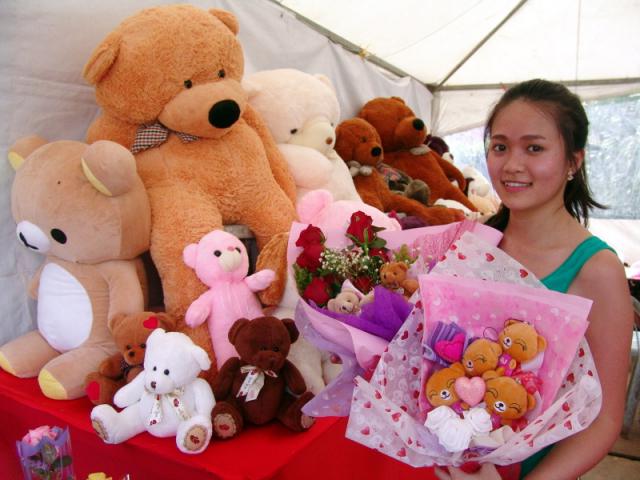 For a bouquet of nine toys you have to pay from one thousand to two thousand rubles. Also, you can make to order a composition of thirty or more teddy bears, and the price can reach ten thousand rubles. Original look great bouquets of toys, photos of which will please every woman. The cost of consumables is several times lower, so before you give big money for the "girl's dream", try to make it a reality on your own. The only advantage of buying a gift in the online store is only that the purchase will be delivered to your home.
For what reason to give?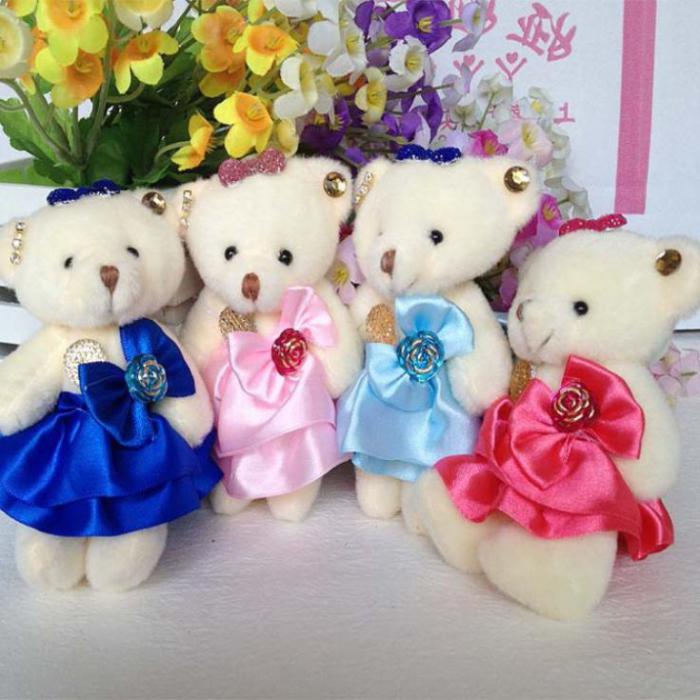 A bouquet of toys will be an excellent substitute for one large toy, which most often young people give to their halves on a significant date. The reason for the purchase of such a gift can be anything: birthday, anniversary from the date of acquaintance, Valentine's Day, the Eighth of March, wedding. If you hand a bouquet of toys with your own hands on the first date, the girl will be overwhelmed with pleasant emotions, and she will not refuse you an offer to start a romantic relationship.Be extremely vigilant and make sure in advance that your sweetheart has a positive attitude to teddy bears, as some people may consider such a gift as a hint of a young age or childish behavior.
General recommendations
The size of the bouquet is determined individually. Well-off guys will probably ask how to make a bouquet of toys in the amount of thirty pieces, and the more modest young men can present one teddy bear surrounded by flowers and chocolates. Do not forget that your sweetheart will be waiting for sweets that can be included in the same composition with toys. Going with a gift to the house where there are children, collect the bouquet so that it can be easily disassembled, because in general it will not last long. Try to choose toys exclusively from fabric, without fillers, so that the composition is not too heavy.
What is required for manufacturing?
The tools and materials for a plush bouquet can be different, depending on whether it is decorated with a pattern or if you add additional elements to it. A standard set will tell you how not to get lost and buy everything at once.If you decide to make a bouquet of toys yourself, the instruction will tell you how not to make a mistake.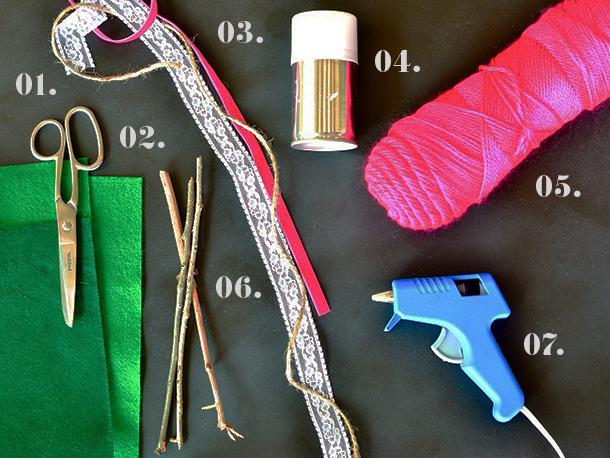 So, you need:
1. Scissors.
2. Corrugated paper. It is sold in the flower department or in the office supply store.
3. Tape for finishing, which is glued as a decorative element on top of corrugated paper.
4. Bouquet holder (plastic or foam cylinder).
5. Colored thread or wire.
6. Wooden or plastic sticks (for legs).
7. Glue.
If desired, you can add candy or fresh flowers to the bouquet. The main elements are toys. Try to perform the composition in a single color palette so that the girl would pay attention to your good taste and sense of style.
Bouquets of toys: master class, step by step instructions
In the role of the frame is a plastic cylinder or a foam cone-shaped. The length of each wooden stick should be at least thirty centimeters. Wrap a leg with a thread or a beautiful ribbon so that in case of a bouquet analysis it does not lose its attractive appearance. Wire each toy so that it holds well.Secure the leg in the foam, the excess gaps filled with artificial leaves or ribbons. From above pack a bouquet into corrugated paper, fix the ends with a stapler. Glue the tape or tinsel to the edge with glue. The bouquet is fully assembled! Rhinestones, beads and other decorative elements will complement the appearance.
What can you give in addition to the bouquet?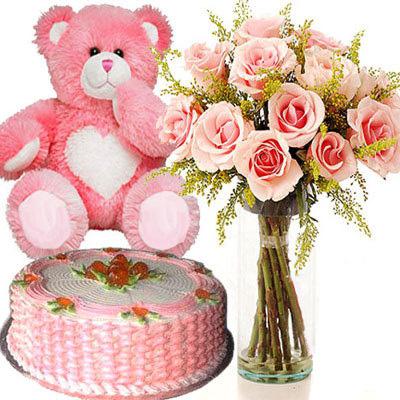 The most patient and skillful guys dare to make a gift on their own. If you decide to make homemade bouquets of toys and sweets, in addition to them, you can make a postcard. Compliments and wishes can be arranged in a more original way: on the sheets in the form of small hearts write the words that characterize your beloved, put them in a jar or box. Make a balloon composition. If your girlfriend drives a car, before a significant day, decorate it with paper stickers in the shape of hearts with wishes. Print out your shared photos and paste them on a large postcard.
Top 5 Gifts for Girls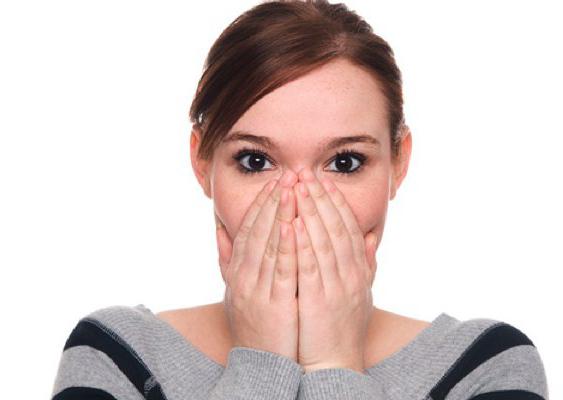 Flowers have always been in the first place in popularity - they can be the only gift or addition to something bigger.A girl with a passion for living plants can give a miniature indoor tree.
In the second position is a plush toy: it can be large or small. Alternatively you can consider soft pillows with a pattern. Ask how to make a bouquet of toys yourself - this is a more long-awaited and effective gift.
Books and CDs with movies and music are what should be considered as a present after flowers and toys. Girls love miniature editions of poems or bestsellers of contemporary writers.
A notebook or photo album is always the right gifts, so the experts gave them a fourth position.
Gloves, shawl, umbrella, or other accessories from the clothing category. Your sweetheart with great pleasure will wear things that will remind her of you.
Related news
How to make a bouquet of toys Bouquets of toys - master class, photo image, picture, imagery