Installing and using a virtual PDF printer
The PDF format is notable for preserving the original formatting of the document and at the same time protecting it from further editing. This is useful in cases where you want to show your article, presentation, or web page exactly in the form in which it was originally conceived.
To create such documents, a special program is used. It is called a virtual PDF printer and allows you to convert almost any text or graphic file into this format. Below will be considered the best of these applications, and you can choose one of them that meets all your requirements.
Regular tool Windows 10
Previously, users of the Windows family of operating systems had to use third-party programs as a virtual PDF printer, while on Linux this functionality was available out of the box. But, fortunately, this unfair situation has changed with the release of the "dozens".It installs by default the Microsoft Print to PDF application, which, as its name suggests, serves to convert regular documents into this format.
To enable a virtual printer in Windows 10, do the following:
Go to "Options" through the "Start" menu.
Open the "Devices" section.
Click the Add Printer button.
Now select the option "Printer is not in the list", mark the line "Local or network" and click "Next".
Locate the "Print to file" drop-down list. Click "Next", and then select the Print to PDF application in the right column.
Create a name for the device and confirm the operation.
That's all. Now you have a virtual PDF printer on your computer. It is enough to send any document to this device, and it will automatically be converted into a new format.
CutePDF Writer
How to install a virtual PDF printer if you do not want to install Windows 10 on your PC? The answer is obvious - use for this purpose a special program. One of these applications is CutePDF Writer. Installation of this free utility takes place in two stages. The first step is to install the program itself, and then it will ask you to add a separate converter. Be sure to agree to this, otherwise the application will not work correctly.
When the installation process is complete, you can proceed to convert the document of interest to PDF. To do this, simply send the file to print and select the CutePDF Writer as the device, and then specify the folder in which you want to save the final result. Also note that you can configure a virtual PDF printer in the same way as a regular device. For example, to make all documents received as a result of conversion, black and white, calibrate their quality, select the orientation and so on.
PDF Creator
Immediately it should be said that this virtual PDF printer in Russian differs markedly from its counterparts. So, this program not only adds its icon to the desktop and to the list of devices for printing, but also integrates into many popular applications. For example, an option appears in the browser that allows you to quickly convert the web page you are currently viewing into a PDF. In addition, you can customize the quality of documents, quickly send them by e-mail, change colors, and so on.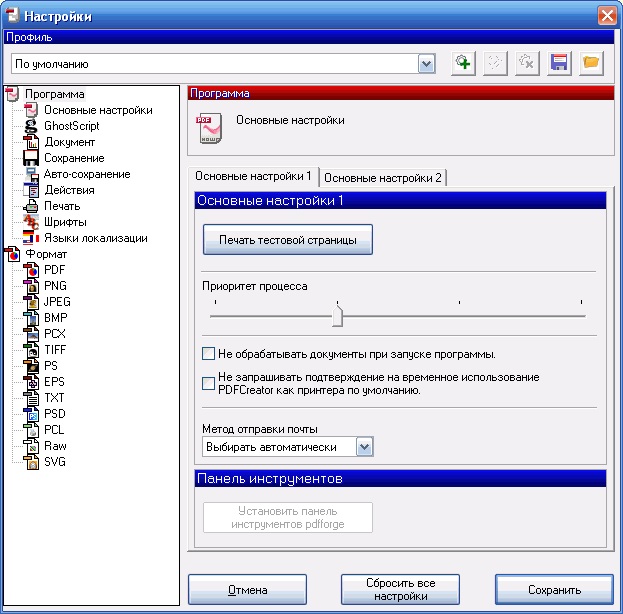 Unfortunately, the latest versions of PDF Creator are not translated into Russian as quickly as they would like.Therefore, if this is a problem for you, you can either use earlier versions of the application, or pay attention to alternatives.
Dopdf
For those users who do not want to bother with numerous settings, this virtual PDF printer is perfect. The program is free and does an excellent job with its main task - the conversion of documents. DoPDF is also notable for the fact that it greatly degrades the quality of a file during its conversion, and this, in turn, reduces its size.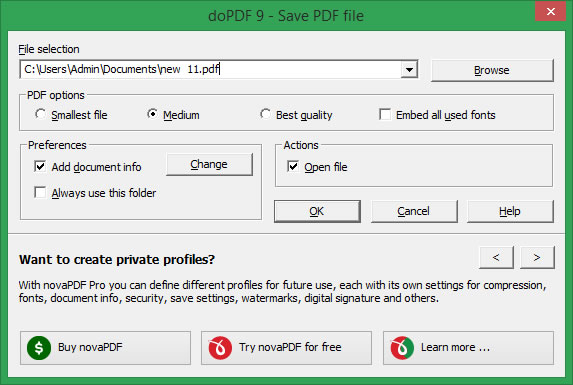 The downside of the application is the lack of Russian language. However, the translation is already in process, so after a while this problem will disappear.
BullZIP PDF Printer
This program is highly compatible with all operating systems of the Windows family. If desired, it can be installed even on the "top ten", if the local converter doesn't suit you. In addition, the application works fine in 64-bit OS, which is an additional point in his piggy bank.
Also, in addition to the basic functions of the BullZIP PDF Printer, it is worth highlighting the ability to set a password, watermark, encryption, and other attributes on documents.This is useful if you want to hide from prying eyes any important information or protect it from illegal copying.
Online services
Well, for those who do not want to load their computer with additional programs, virtual PDF printers that work online will do. To use one of them, it is enough to upload the source file to the corresponding site, and then convert it to PDF, following the prompts.
For the most part, online services will be useful to those who do not often work with documents. After all, it is not quite logical to install a virtual printer on your PC if you want to convert with the help of it only one file. However, to convert a large number of documents, it is still better to use desktop programs.
Related news
Installing and using a virtual PDF printer image, picture, imagery