Lamb chops: recipes and cooking options
Lamb chops are perfectly combined with vegetables, sauces, spices and herbs. Because of them you can cook a lot of everyday and festive dishes. In this publication, we will look at a few simple recipes for mutton ribs.
Valuable advice
To create such dishes, it is advisable to use a portion of the carcass of a young sheep that has not been pre-frozen. This is due to the fact that the thawed meat becomes drier and loses a considerable proportion of the original taste characteristics. In addition, the old lamb is quite tough, and therefore requires quite a long heat treatment. One can distinguish the ribs of a young lamb not only by its relatively small size, but also by the presence of a very light, almost white body fat.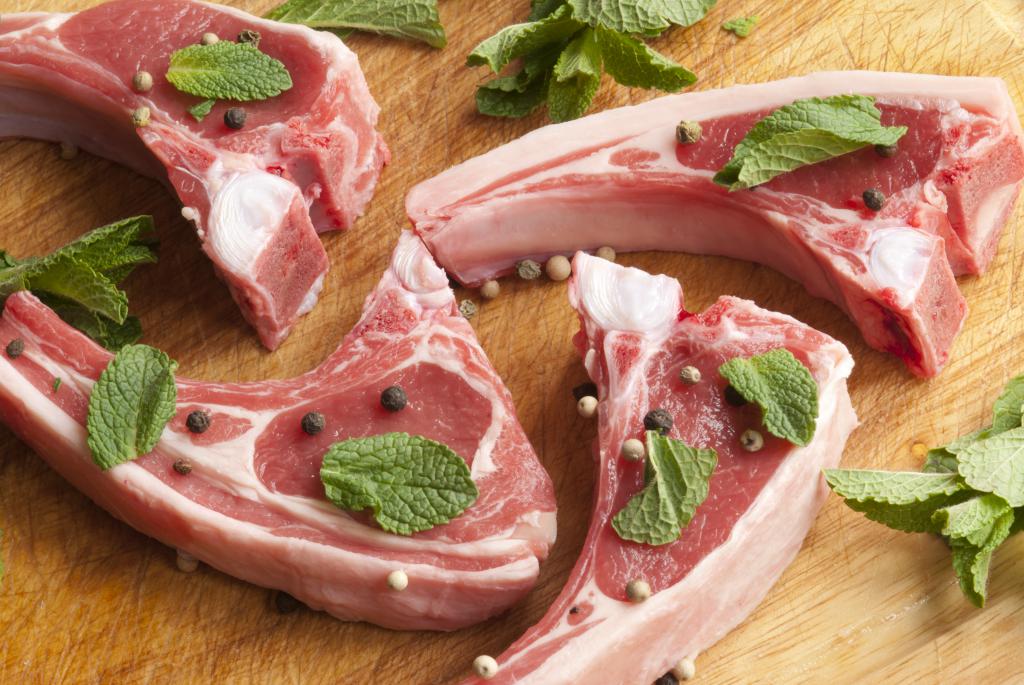 To make the meat juicier, it is first fried until golden brown, and then drained under the lid with the addition of distilled water, broth or marinade.As a rule, the duration of this process does not exceed one and a half hours. To give the finished dish a pleasant taste and aroma, it is supplemented with greens, spices, soy sauce, natural lemon juice, mustard, honey, wine, sour cream or garlic. Pepper, cumin, thyme, thyme or rosemary are commonly used as seasonings. Serving such dishes hot with baked, stewed or fresh vegetables.
With mustard and honey
According to the technology discussed below, it turns out very juicy meat covered with spicy-sweet glaze. To make it you need:
2 kg of ribs.
4 tbsp. l mustard
2 tbsp. l liquid lime honey.
200 g breadcrumbs.
Salt and spices.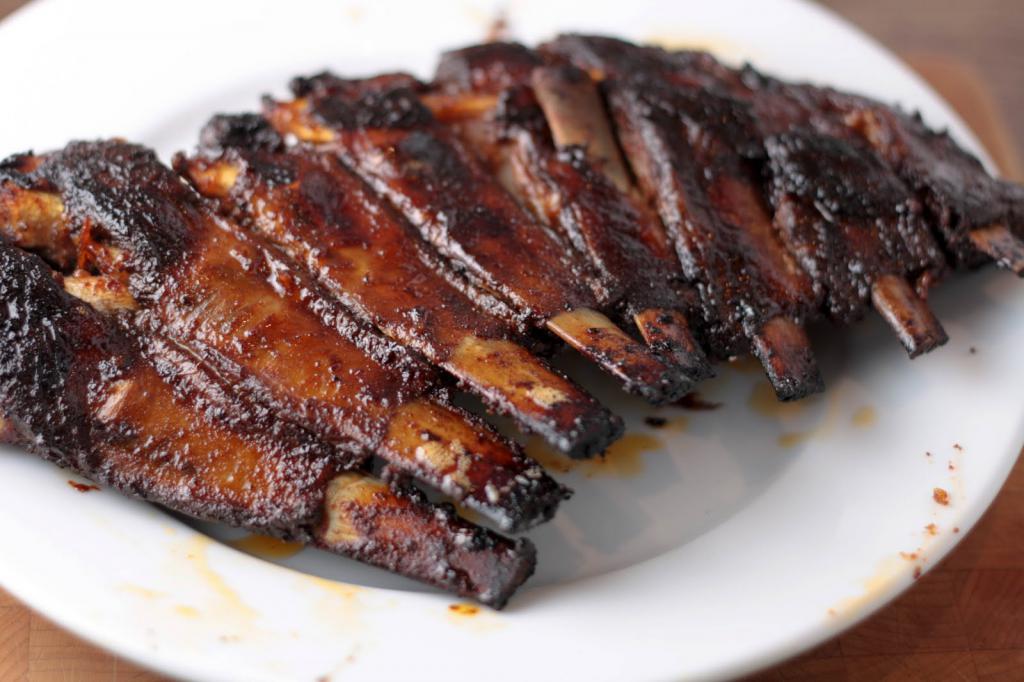 First you need to do the glaze. To cook it in a deep bowl, combine salt, seasonings, mustard and honey. The resulting mixture is richly covered with washed, dried and chopped ribs. Each piece is sprinkled with breading and spread in a heat-resistant container lined with foil. For forty minutes all this is sent to a well-heated oven. Baked lamb chops are served with any vegetable garnish.
With tomatoes
This hearty and very tasty dish is especially popular with the inhabitants of the Caucasus. It is a very interesting combination of meat, vegetables, spices and greens.To make it you need:
1 kg of ribs.
4 meaty tomatoes.
2 large onions.
Salt, bunch of cilantro, rosemary, thyme and thyme.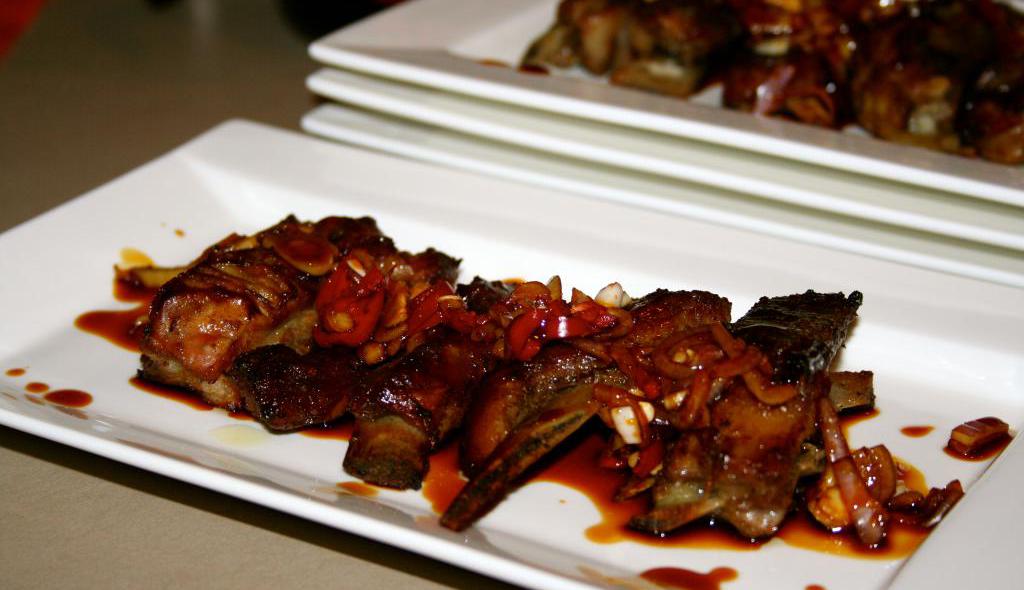 So, how to cook mutton ribs? As usual, they are first washed, dried and cut into portions. Then they are wiped with salt and aromatic spices and left to marinate. After a couple of hours, the ribs are placed in a heat-resistant container and covered with tomato slices. Top onion in uniform layers distribute onions and chopped greens. All this is neatly covered with foil and baked at 190 ° C for two hours.
With curry and greek yogurt
This simple recipe for mutton ribs will certainly fall into the personal collection of fans of unusual and very delicate meat dishes. To play it, you will need:
200 ml of Greek yogurt.
1 kg of chilled ribs.
200 g onions.
5 g of mustard powder.
10 g curry.
40 ml of lemon juice.
Salt and vegetable oil.
Lamb ribs are thoroughly washed in cool water and cut into portions. Each piece is richly smeared with a sauce made from onion half rings, Greek yogurt, mustard, curry, lemon juice and salt. All this is left for a couple of hours, and then gently shaken and subjected to heat treatment. Prepare pickled lamb chops in a pan, greased with heated vegetable oil.As soon as they get reddened, they are poured over with the remaining sauce, covered with a lid and stewed until soft. Serve them hot with a side dish of stewed vegetables.
With wine and herbs
This interesting and very fragrant dish is best suited for a family holiday. To cook it, you will need:
1.2 kg of ribs.
300 ml of red dry wine.
300 g onions.
30 g fresh parsley and cilantro.
Salt, dried herbs, pepper and vegetable oil.
Start cooking stewed lamb ribs need with the processing of the main ingredient. The meat is washed, dried, salted, peppered, rubbed with dried herbs and immersed in a container of wine for a couple of hours. At the end of the indicated time, the marinated ribs are fried in the heated vegetable oil. As soon as they turn red, they add crushed onions, wine and chopped greens. All this is extinguished in a closed vessel for at least an hour.
With soy sauce
This recipe for lamb ribs will certainly appreciate the true lovers of kebabs. To repeat it yourself, you will need:
150 ml of soy sauce.
1.5 kg of ribs.
Pepper and vegetable oil.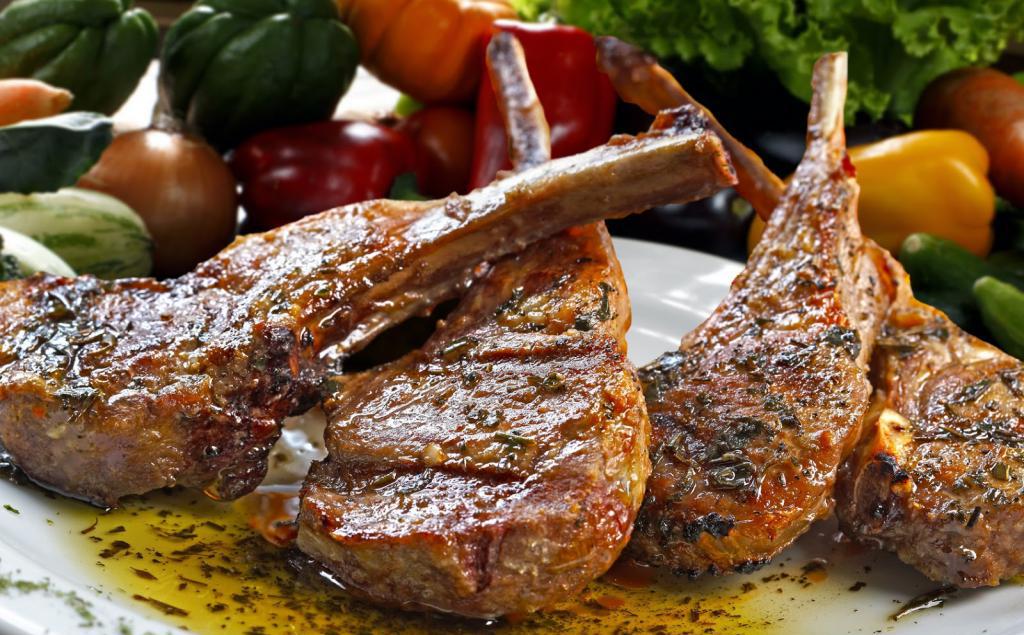 The washed and dried edges are cut into portions.Each of the resulting pieces is lightly sprinkled with pepper and put in a voluminous bowl filled with soy sauce. All this is complemented by 5 Art. l any vegetable oil and send in the refrigerator for at least an hour. Prepare marinated lamb chops on the grill, without being lazy to periodically turn the grill over. Serve them with grilled vegetables or eggplant caviar.
With onions and bacon
This nutritious meat dish will surely be appreciated by housewives who need to feed a large family with tasty and satisfying food. To cook it, you will need:
700 g ribs.
150 grams of lamb fat.
500 g onions.
Pod hot pepper.
Salt, coriander and zira.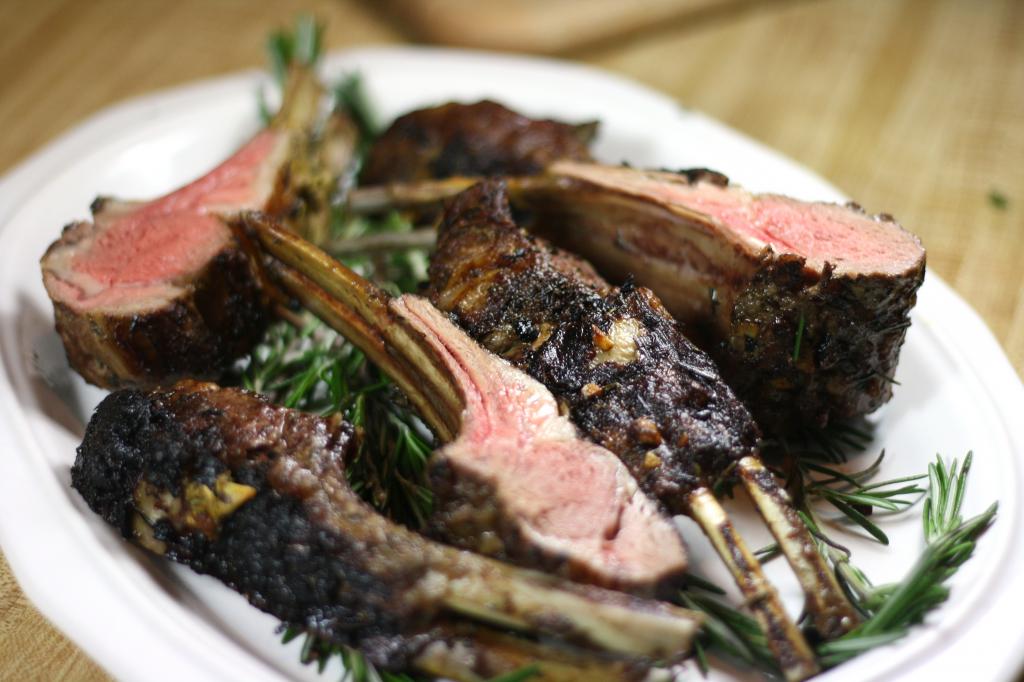 Preparing lamb ribs in a cauldron is relatively simple. First, pieces of bacon are distributed along the bottom of the pot and melt it. Then, on the excreted fat, they fry the washed, dried and chopped ribs. As soon as they are covered with a golden crust, they are supplemented with onion, salt, hot pepper and spices, and then gently mixed and stewed under the lid for about forty minutes.
With carrot
This fragrant, moderately spicy dish will surely appeal to lovers of Italian cuisine. To feed them your family and friends, you will need:
1 kg of ribs.
3 garlic cloves.
Onion head.
Average carrot.
Bay leaf.
1 tbsp. l rosemary.
1 tsp. salt and cumin.
Olive oil, water and black pepper.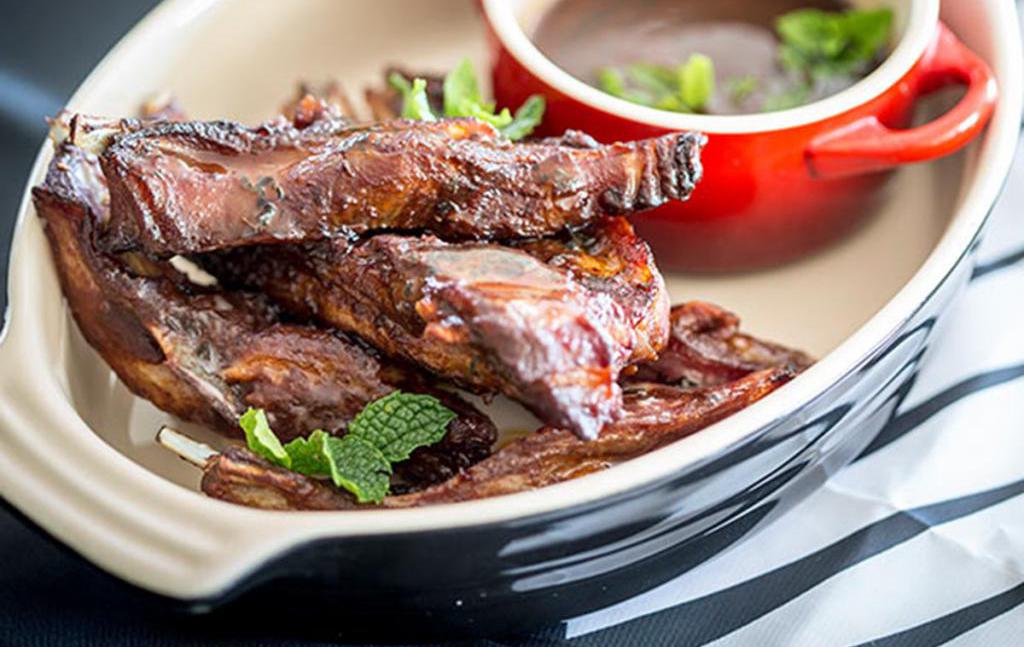 Washed and chopped ribs are sent to a deep pan. The onion, peeled carrot, two cloves of garlic and a small amount of water are also sent there. All this is sent to the fire, brought to a boil and stew for about an hour. Then the meat is shifted to a baking sheet, sprinkled with cumin, rosemary and pepper, and then sprinkled with olive oil mixed with minced garlic clove. Bake ribs for about sixty minutes at 180 ° C.
With potato
Engaged women who do not have time for a long standing at the stove, it is advisable to pay attention to a very interesting recipe for lamb ribs. Since it involves the use of a specific grocery set, check in advance if you have everything you need in the kitchen. In this case, you will need:
1 kg of ribs.
1 kg of young potatoes.
400 g cherry tomatoes.
3 cloves of garlic.
2 tbsp. l Dijon mustard.
3 tbsp. l any vegetable oil.
Salt, rosemary and pepper.
First you need to do ribs.They are washed, cut into portions, dried and rubbed with a mixture of salt, mustard, crushed garlic, pepper and 1 tablespoon of vegetable oil. Mutton processed in such a way is fried until appetizing crust appears. Then the ribs are shifted to a greased baking sheet, at the bottom of which there is already a slightly scalded young potato. Top with a uniform layer of tomatoes and rosemary. Bake meat with vegetables for about twenty minutes at 220 ° C.
With sour cream
The recipe for this dish is incredible simplicity, because with it any beginner can easily cope. Before proceeding with the processing of products, be sure to make sure that you have at hand:
1 kg of ribs with a small fat layer.
400 ml of fresh broth.
4 tbsp. l red dry wine.
2 tbsp. l not too hot mustard.
2 tbsp. l sour cream.
2 lemons.
Salt, spices, sugar and olive oil.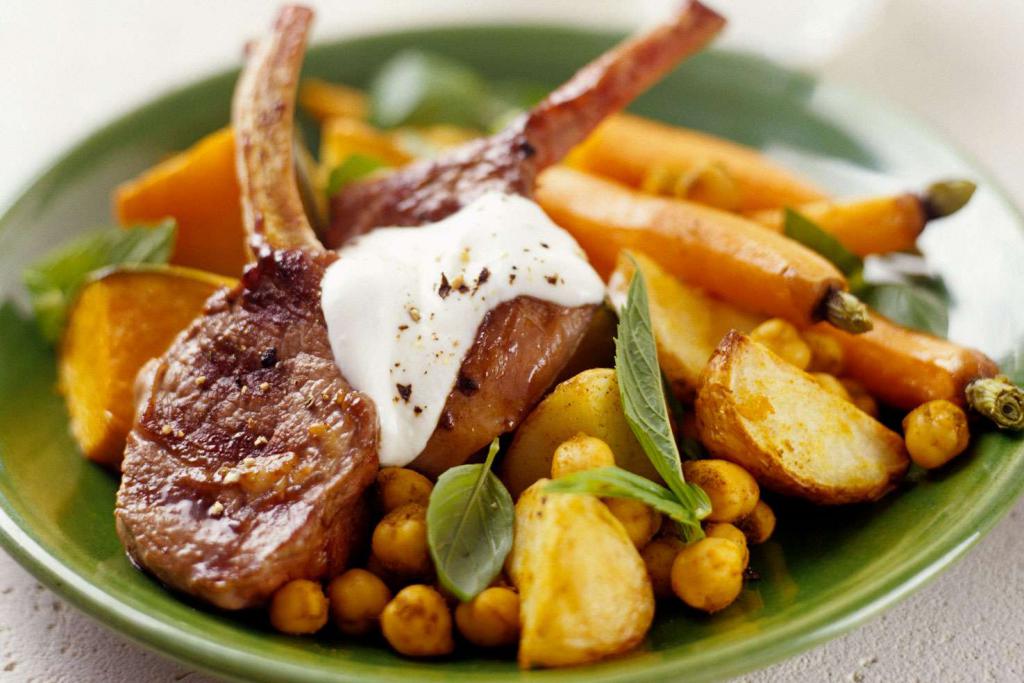 The washed and dried edges are cut into portions. Each of the pieces is sprinkled with the juice of one lemon, smeared with oil and sprinkled with pepper. Mutton prepared in such a way is browned in a hot cauldron, not forgetting to slightly salt.Served ready-made ribs with sauce cooked from meat broth, mustard, sour cream, wine, sugar and lemon juice.
Related news
Lamb chops: recipes and cooking options image, picture, imagery