Semifreddo recipe, cooking features, composition and reviews
Semifreddo is the Italian version. The taste of this dessert is completely dependent on the ingredients it contains. In today's article you will find a recipe for dessert, semifreddo in several variations.
General recommendations
This delicious chilled delicacy is made from whipped raw eggs, heavy cream and powdered sugar. Some housewives add a little mascarpone or ricotta to it. All ingredients must be not only high quality, but also very fresh. To avoid any problems in the process of creating a dessert, to create it, it is advisable to take only homemade eggs, the shelf life of which is no longer than ten days. Otherwise they will beat worse. Therefore, they can not be added to the Italian dessert.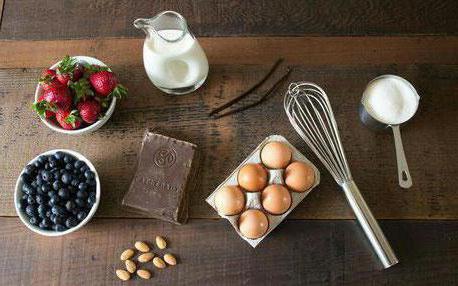 To diversify the taste of the finished delicacy, the basic recipe of semifreddo can be supplemented with nuts, chocolate, candied fruits, berry or fruit puree.With these components, the dessert will acquire a completely new taste.
Traditional option
According to the technology described below, it turns out Italian ice cream, which has a delicate structure and a pleasant vanilla flavor. Many famous cooks use this classic recipe of semifreddo as a basis for creating various desserts. Therefore, every housewife should know how to make such a dessert.
So, you need the following products:
500 ml of cream (30% fat);
3 eggs;
220 g of powdered sugar;
yolks from two chicken eggs;
1 tsp. Vanilla extract.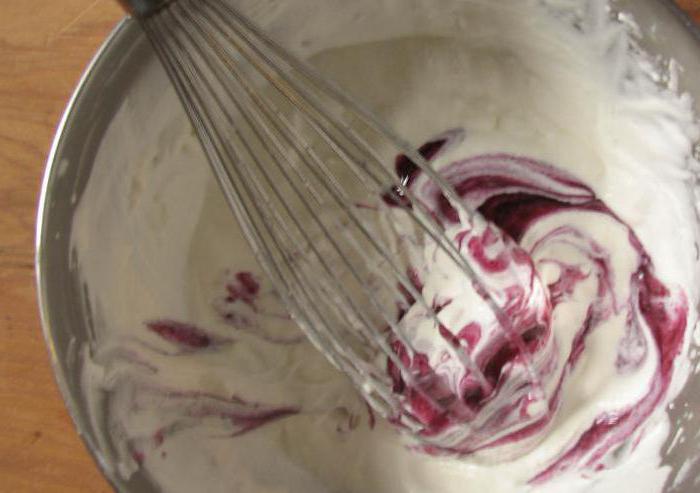 Practical part
The basic recipe of semifredo is so simple that any inexperienced hostess will cope with it without much hassle. In a heat-resistant container, powdered sugar, vanilla extract, eggs and yolks are combined. All this is placed on a pot filled with boiling water. The ingredients are whipped with a mixer for at least six minutes. The resulting mass is removed to the side, slightly cooled. Whipped cream is gently added to the cooled mixture. The contents of the container are transferred to a resealable container. Then sent to the freezer.After a few hours the vanilla dessert will be completely ready for use. Enjoy your meal!
Option with strawberries and chocolate
This recipe for berry semifredo will certainly be interesting for lovers of unusual homemade desserts. It involves the use of simple and easily accessible components. And the process itself does not take too much time.
Food Package:
60 g chocolate;
400 ml of cream (36% fat);
200 g fine crystalline sugar;
5 eggs;
150 g fresh strawberries;
vanilla pod;
100 g fresh raspberries and chopped nuts.
Cooking process
The cream is combined with vanilla and half the sugar available. All this is whipped with a mixer. Eggs are carefully divided into whites and yolks, and then beaten in different dishes with the addition of a small amount of sugar. The resulting ingredients are combined in one container. There also add grated chocolate, chopped nuts and pieces of berries. All this is distributed in silicone forms, cleaned in the freezer. Ready dessert can be decorated with mint leaves.
Raspberry option
This recipe for semifreddo is interesting because in addition to berries, cream and powdered sugar, it contains additional ingredients.It is these additives that give the finished dessert an unusual taste and exquisite aroma.
Grocery list:
250 g ricotta cheese;
100 ml of cream of 30% fat content;
350 g raspberries;
½ lemon;
50 g of powdered sugar;
100 g butter biscuits;
70 grams of sugar.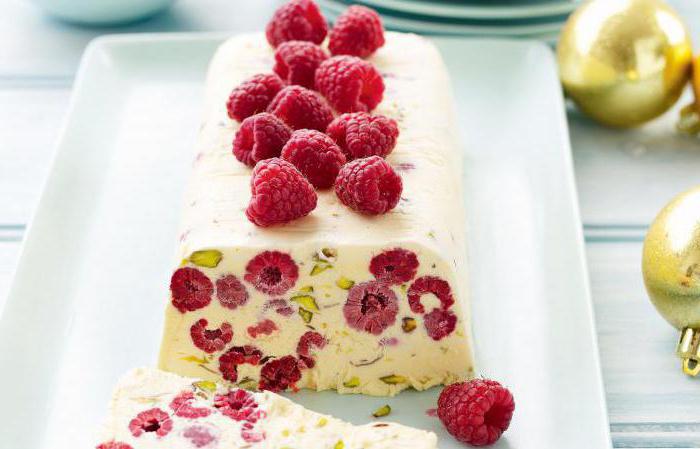 Detailed instructions:
Since the recipe for semifreddo with raspberries implies a complete absence of eggs, the culinary process must begin with the preparation of cream. They are whipped with a mixer until they increase in volume.
Then the cream is combined with ricotta, pre-whipped with powdered sugar.
Crumbled cookies and 150 g of raspberries are introduced into the resulting mass.
Future dessert is transferred to a container with a lid and cleaned for a couple of hours in the freezer.
Frozen ice cream is spread on ice-cream bowls, poured over a sauce obtained from lemon juice, granulated sugar and raspberry residue.
Peach Dessert Recipe
The process of cooking this delicacy is extremely simple. The main difficulty lies in waiting until it finally hardens. Since this recipe for semifredo ice cream involves the use of a specific product range, check in advance if your refrigerator contains:
300 ml of cream of 33% fat content;
3 large ripe peaches;
a pair of eggs;
6 tbsp. spoons of sugar;
small bunch of basil.
Cooking
Washed peaches are poured with boiling water, and after a couple of minutes they are doused with cold water. Then gently rid the fruit of the skin and bones. Prepared in this way, the fruit is ground with a blender (to the state of mashed potatoes). The resulting mass is divided into two approximately equal parts. In one of them add chopped basil. In the second - a tablespoon of whipped cream. The remains of the dairy product are sent to peach puree with basil.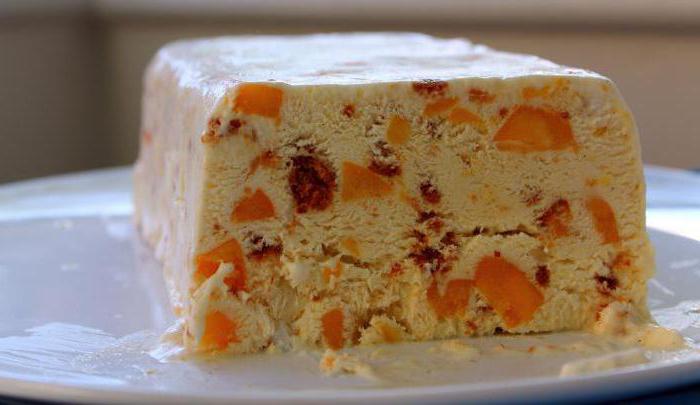 In a separate bowl, beat the yolks, combined with half of the available powdered sugar. The resulting mass is added to the peach-basil puree. Proteins are whipped with the remains of powdered sugar. A tablespoon of the resulting mass is sent to a simple fruit puree, and everything else - in a bowl, in which there is basil. At the bottom of the form, covered with food polyethylene, spread a bit of fragrant peach mass. Put mashed potatoes without basil on top. The alternation of layers is repeated until the tank is filled. Almost finished dessert is covered with foil and cleaned in the freezer.Before serving, sprinkle it with grated chocolate or slices of fruit.
Cooks reviews
Many experienced housewives who have already prepared this dessert, assure that this process does not cause any difficulties. According to them, the knowledge of the basic recipe of semifredo allows you to conduct culinary experiments and create real sweet masterpieces.
Many of them recommend adding fresh berries, pieces of fruit, honey, condensed milk or caramelized nuts to Italian ice cream. And in order to achieve the desired strength of the dessert, some of the heavy cream can be replaced with mascarpone cheese.
Be sure to please your household and guests with such amazing ice cream semifredo.
Related news
Semifreddo recipe, cooking features, composition and reviews image, picture, imagery