Serenity Fun City Makadi Bay 5 *: reviews, photos
It's no secret that every year thousands of compatriots choose Egypt for a holiday. It is a tourist developed country that offers its guests a lot of entertainment. Naturally, there is also a huge number of hotels. A fairly good choice is the hotel complex Fun City Makadi Bay5.
Location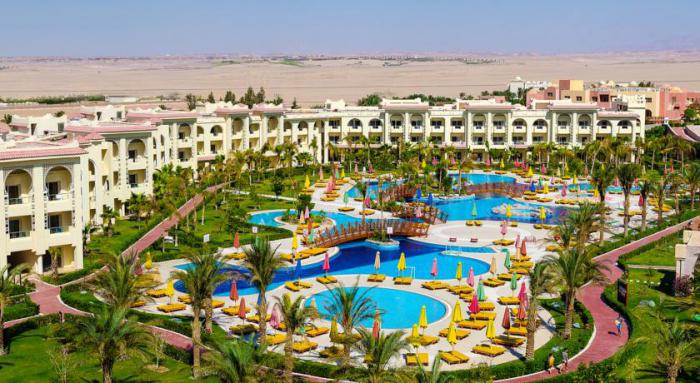 The large hotel complex Fun City Makadi Bay 5 is located on the territory of the picturesque bay of Makadi Bay. By the way, this place is very popular among travelers who love beach holidays, fun parties and scuba diving.
The distance to the sea coast is approximately 500 m. Hurghada International Airport is approximately 34 km away. The distance to the city center is 40 km. Near the hotel there is a public transport stop. In addition, right to the threshold you can call a taxi, so there will be no problems with movements.
Brief description of the territory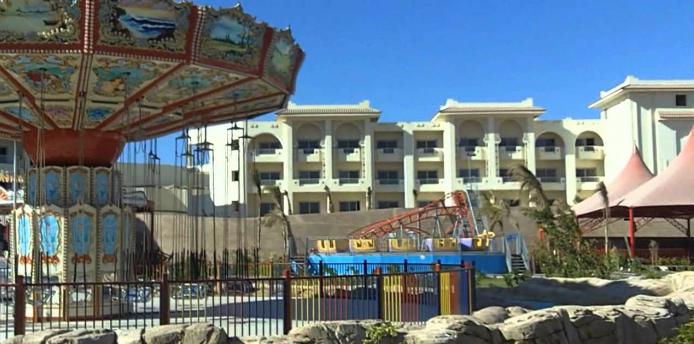 Hotel Serenity Fun City Makadi Bay 5 was opened not so long ago - in 2012. The territory here is quite large, its area is 330 thousand square meters.Guest reviews indicate that it is very nice to spend your leisure time. After all, the territory is well-groomed, and experienced designers worked on the design.
In the main two-story building there is a reception desk, as well as a restaurant. There are also several five-storey buildings, which are reserved for rooms for tourists. All buildings are built in a simple modern style that only adds to the charm.
How many rooms does the hotel offer?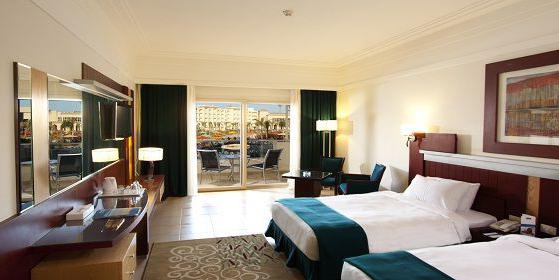 As already mentioned, the hotel complex Serenity Fun City Makadi Bay 5 is able to accept a large number of tourists. On its territory there are 540 rooms of different categories, including:
237 standard rooms with garden or pool view. These rooms can accommodate two, a maximum of three people (you can order a folding bed).
48 Deluxe rooms overlooking the pool or water park, which can accommodate three or four guests.
52 triple rooms with views of the pool, garden or water park.
178 family rooms, which consist of two bedrooms, a small living area and can accommodate up to five tourists.
24 deluxe family rooms.
Fun City Makadi Bay 5 Hotel Complex: Photos and Description of Rooms
Immediately it should be said that regardless of the category, all rooms are spacious and furnished with a sufficient amount of furniture. There is either an exit to the terrace, or a small private balcony from where you can enjoy the view of the hotel.
Each room has a TV where you can watch local and satellite channels, including some in Russia. There is also a working air conditioner that will help create a pleasant coolness. There is also a safe and mini-bar, but you have to pay for their use separately. A set for making coffee and tea will make life much easier.
The bathroom has a shower or bath (depending on category). There is also a toilet, a large wall mirror, a hair dryer, a set of towels that change every day during cleaning. Bed linen is changed 2-3 times a week or on request.
The power scheme for guests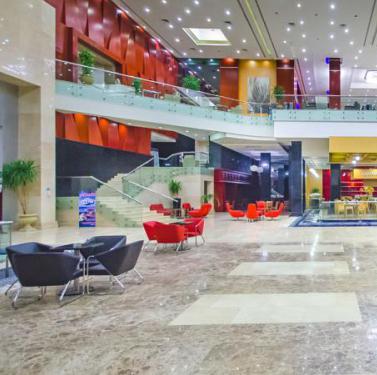 Full rest without any problems and concerns - this is what Egypt offers to tourists. Fun City Makadi Bay 5 works according to the all inclusive scheme. This means that tourists will have the right to four meals a day in the main hotel restaurant. In addition, local drinks are served free of charge.You can also separately pay for the Ultra all inclusive service, which includes a hookah, free laundry, alcoholic beverages and some other services.
On the territory of the hotel complex there are also three "a la carte" restaurants, which can only be reached by appointment. There are five bars where you can enjoy chilled drinks, alcoholic cocktails, snacks and desserts. A small bar is located on the beach. And, of course, do not forget that in the resort town there are a lot of catering establishments, as well as supermarkets and markets where you can eat or buy food.
Description of the beach and water recreation
Of course, most tourists go to Egypt in the first place in order to relax by the sea. Immediately it should be said that the hotel Fun City Makadi Bay 5 has its own small stretch of beach, which is 500 meters away. This path can be overcome on your own. But also from the territory of the hotel several times a day a bus leaves, which quickly delivers guests to the seashore.
The beach is sandy and pebble. There is a small cleared area to enter the sea, but a coral reef is located close to the shore, so special shoes are obligatory in this case.Sun beds, umbrellas and beach towels can be used free of charge. There is a large pontoon for those who want to swim.
Naturally, there is a lesson for fans of more active recreation. For example, this part of the coast is popular with scuba diving. In addition, for a reasonable fee, you can ride catamarans, water skiing, speedboats, bananas, etc. equipment, as well as help to make the first dive.
Entertainment and leisure travelers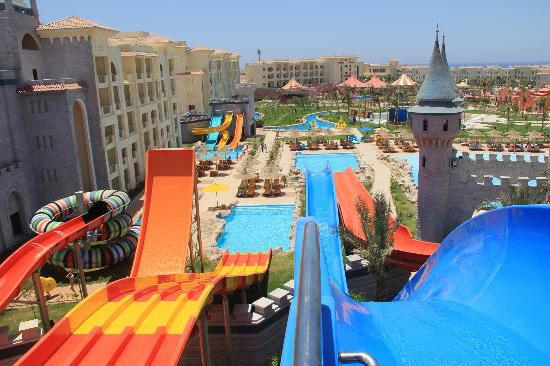 This hotel complex has gathered in itself everything that Hurghada has to offer to the tourist. Fun City Makadi Bay 5 offers its guests a lot of opportunities to have a good time. The area has several freshwater pools that are regularly cleaned. Around a sufficient number of beds are placed. During the day, there is a large water park, where not only children, but also adults can have fun.
You can also relax in the jacuzzi or go to the sauna.The hotel has experienced animators who regularly organize bright shows. In the evenings, performances are held in the large amphitheater. From time to time musicians perform here. And in a nightclub regularly organize discos. It is worth considering that the bar at the disco is paid.
For people who are used to keeping themselves in shape, a gym and a fitness center are available. Instructors regularly organize group classes, including water aerobics. There is a game room where you can have fun with board games.
Additional services
Immediately it should be said that at the territory of the hotel Fun City Makadi Bay 5 they tried to create all the conditions so that the rest of the travelers was pleasant and cloudless. For starters, it is worth noting that the hotel provides transfer. There is also an opportunity to rent a car, which is convenient for those tourists who prefer to explore the area on their own. Parking at the hotel can be used free of charge.
There are some services for which you have to pay extra. In particular, there is a medical office in the territory, but you need to pay for the help of a doctor separately. There is also a currency exchange.A laundry is constantly working, the services of which can be used at any convenient time. For a small fee, you can access the Internet or visit the local Internet cafe. On the territory there is a shop where they sell essentials and cute souvenirs.
It also has a large SPA center, where clients are offered a lot of wellness and relaxing treatments. Also, if necessary, you can use the services of a local hairdressing salon where truly experienced stylists work.
Paid entertainment for tourists
The hotel complex offers some paid entertainment. For example, the hotel has a large tennis court with hard surface. The site can be used for free, but you need to pay extra for the rental of rackets, balls and evening lighting.
What else can Fun City Makadi Bay 5 offer? Makadi is a beautiful picturesque place, as well as Hurghada. This resort area is famous not only for its clean beaches, but also for its mass of interesting sights. The hotel will help you to choose a tour, tell you about what places and what time is best to visit, help you make a route for a trip, etc.
Are there conditions for children's recreation?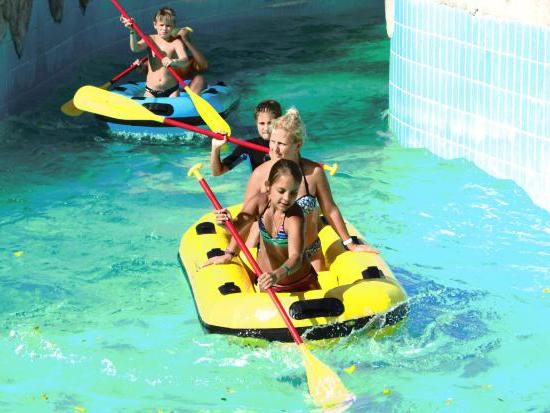 Many tourists travel with the whole family, with children of different ages. Accordingly, for parents it is important to ask whether there are conditions for living with children on the territory of the Fun City Makadi Bay 5 hotel. Can the guys have fun? Are there much needed amenities?
Indeed, this hotel complex is designed for family holidays. If necessary, an extra bed will be delivered to the room. In the restaurant, the waiters will surely offer small guests comfortable chairs for feeding. There is no special children's menu, but among the variety of dishes on offer you will definitely find something tasty and healthy for your child.
As for entertainment, children will not be bored. There is a large children's heated pool. Also, the kids will get a lot of positive impressions by visiting the water park and ride on water slides. And you can also go to the amusement park, where there are more than ten attractions. Older children spend time in the club, where tutors and animators work with them. There is also a large playground with swings and a sandbox.
If necessary, the child can be left with a nanny - here work experienced and qualified teachers, with whom it is not terrible to leave the baby.But this service is not included in the price.
Hotel Fun City Makadi Bay 5: reviews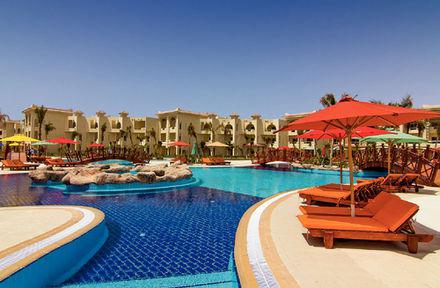 Many tourists who are going to this or that hotel are first interested in the opinions of people who have already managed to go there. So what do travelers say about the Fun City Makadi 5 hotel complex? Reviews leave different, because each tourist has their own tastes. Immediately it is worth noting that the area is really big, the water in the pools is clean, there are plenty of sun beds and umbrellas for all guests near the pool and on the beach.
Food is also quite decent - tourists are offered a large selection of dishes, so you can easily choose something to your liking. The undoubted advantage is that many hotel staff are fluent in Russian, so communication problems should not arise.
Indeed, the hotel has plenty of opportunities to have fun and have a good time. Parents with children note that the necessary amenities do exist.
Related news
Serenity Fun City Makadi Bay 5: reviews, photos image, picture, imagery