The best recipes for cheese buns
Among the varied assortment of homemade cakes, you can also find recipes for cheese buns. Freshly baked bun, from which comes the cheese flavor, is the best suited to cooked for breakfast cup of your favorite drink. You can use to prepare different recipes for cheese buns. Baking dough is prepared with and without yeast. Buns are also baked from choux pastry. Whatever recipe you use, you end up with a lush, fragrant crusty cheese bun.
Choux Buns
Ingredients Required:
Cheese - three hundred grams.
Flour - two glasses.
Eggs - six pieces.
Water - four hundred milliliters.
Oil - two hundred and fifty grams.
Salt - one teaspoon without a slide.
Cooking process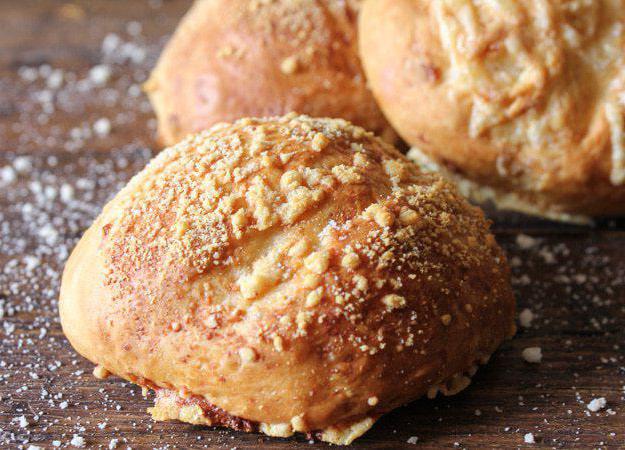 Remove the butter beforehand from the refrigerator so that it becomes soft. After that, put it in a small saucepan, pour water here, add salt and place the saucepan on the fire. As soon as the water with the oil boils, the fire must immediately be turned off and, while stirring constantly, pour out the flour.Knead dough for cheese custard buns until it stops sticking to the pan and hands. After the dough has become soft and non-sticky, it should be placed in any dish and left to cool.
When the dough cools, it is necessary, according to the recipe for cheese buns, add eggs. This should be done gradually, adding one egg, carefully knead it in the dough, and only then break the next one. Thus enter all the necessary eggs. Now you need to take the cheese, grate it on a grater, pour it into the dough and mix it. The resulting cheese dough must be laid out in the form of buns on a baking sheet made with oiled baking paper.
The oven is preheated to a temperature of one hundred and ninety degrees. Place the pan in the oven and bake for thirty to thirty-five minutes. Buns from cheese dough should increase in size and get a golden color. Get a baking sheet and let them cool. Then cooked cheese custard buns lay on a dish and put on the table.
Yeast dough buns
Almost always homemade pastries consist of a large number of ingredients. Often it is difficult and long, and many lack neither time nor experience. But you can also find easy recipes that do not take much time. For example, the recipe for cheese buns.It is very simple to prepare them, but they are airy, crispy and, of course, fragrant.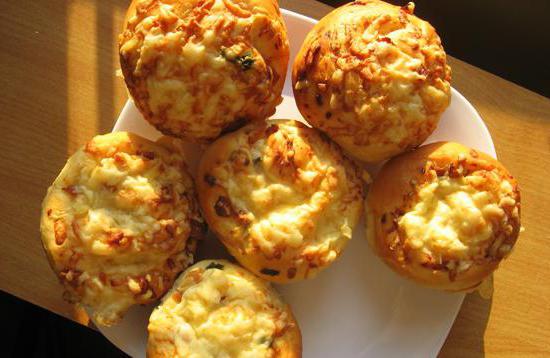 What we need:
Flour - seven hundred grams.
Cheese - five hundred grams.
Eggs - two pieces.
Baking powder - one bag.
Oil - two hundred grams.
Cottage cheese - five hundred grams.
Sour cream - five hundred milliliters.
Salt - one teaspoon.
Cooking Buns
If you use this recipe, then you will not have a question about how to make cheese buns. First you need to take a fairly deep dish and pour the flour and baking powder into it, then stir them. Separately, in another dish, you need to grind the eggs with cottage cheese, add the cheese grated through a fine grater, pour in the sour cream, salt a little and carefully mix all the ingredients together.
Combine the resulting cheese mixture with flour. Mix well. The dough will come out wet and soft. Next you need to turn on the oven and prepare a baking sheet. It must be oiled. Or you can lay a paper for baking. Now it only remains to form small balls of dough and put them on a baking sheet. In the oven, preheated to one hundred and ninety degrees, put a pan with cheese buns.You need to bake them for about thirty minutes. Despite the fact that the dough for cheese buns without yeast, they grow up and will be lush. Opening the oven during baking is undesirable. Place ready-made buns on a plate and serve until the table is still warm.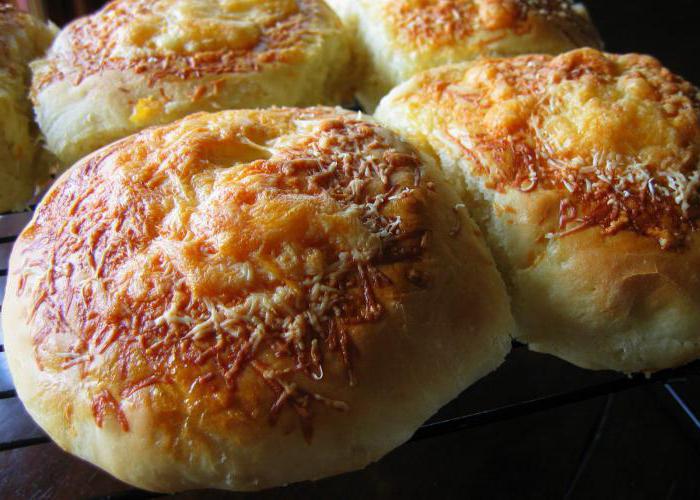 Cheese Buns with Greens
Required Products:
Flour - four glasses.
Milk - four glasses.
Baking powder - four tablespoons.
Cheese - five hundred grams.
Sugar - four teaspoons.
Oil - four hundred grams.
Salt - two teaspoons.
Parsley - one bunch.
Cooking
Separately prepare the ingredients. Sift the flour into the dishes, pour the baking powder, sugar, salt and butter. Stir all ingredients until the lumps disappear. Rinse the parsley, remove the twigs, and chop the greens. Cheese grated. In a bowl of flour and butter pour the grated cheese, chopped herbs and a thin stream of milk, constantly stirring the mass. Stir the dough for the cheese buns thoroughly.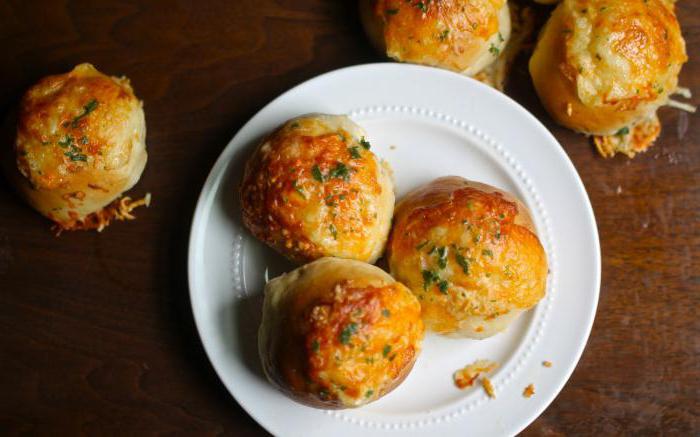 Baking sheet to grease or lay on it a sheet of paper for baking. Put the balls formed of dough evenly on a baking sheet and place in an oven heated to two hundred degrees.Cheese buns should be baked for twenty-five to thirty minutes, until a crispy brown crust is formed.
Yeast Cheese Buns
Ingredients:
Cheese - one hundred and thirty grams.
Flour - two hundred and fifty grams.
Butter - two tablespoons.
Water is one glass.
Sugar - one teaspoon.
Salt - half a teaspoon.
Yeast - half a teaspoon.
Recipe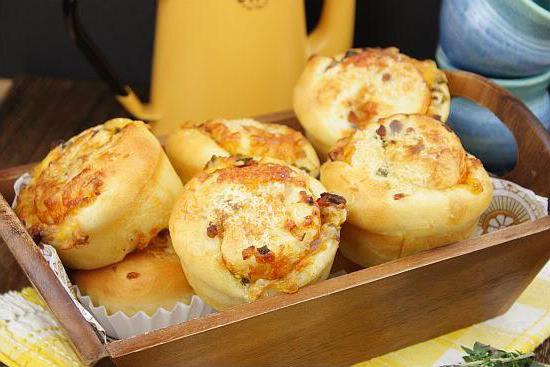 Cook the dishes, sift the flour into it to enrich the latter with oxygen. Dry yeast pour salt water, stir until dissolved and pour into flour. Add sugar, half grated cheese and vegetable oil. Knead dough well to a soft, wet texture. Cover with a towel and leave it for an hour to make it grow. Preheat the oven to a temperature of one hundred and ninety degrees. Prepare a baking sheet: it needs to be greased or covered with baking paper. When the dough is suitable for cheese buns, knead it again.
Now you need to make small balls of dough and put them on a baking sheet. Put the baking sheet in a warm place for twenty-five minutes, brush the product with a beaten egg, sprinkle with the rest of the cheese on top - and can be placed in the oven for baking. In half an hour the lush, crunchy cheese buns will be ready.
Related news
The best recipes for cheese buns image, picture, imagery