Winter dresses for women: photos of current models
Each of us wants to remain a woman, regardless of the season. When the sun is warm and the sun is shining, the hand itself stretches to light blouses and romantic dresses. But when the damp dampness and the cold wind are outside the window, the look rushes to warm pants and sweaters. Is not it? It's time to change your attitude to such a wardrobe item as a dress. And to be feminine every day, despite the weather. Read our article on winter dresses to see once and for all that this is possible.
Femininity and cold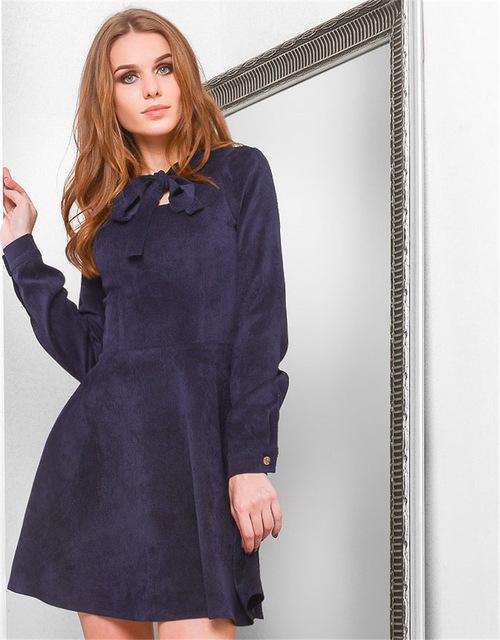 A real woman knows that as soon as she puts on a skirt or a dress, the posture itself straightens, the walk becomes confident and smooth. The psychic properties of dresses are described by psychologist Olga Valyayeva in her books and articles. Many years ago, she refused pants in any of their form and completely switched to dresses. Since then, Olga has called on all women to accomplish the same "feat" in order to experience the magical influence of skirts on a woman and her relationship.Naturally, Olga's subscribers often have a question: "But what about winter, is it not cold?". To which she replies: "Absolutely not." And she explains this by the fact that if you correctly approach the choice of dresses, then the cold is out of the question.
Well, we will try and we make up several options with warm dresses, so that it is not only beautiful, but also warm and comfortable.
Winter long rectangular dress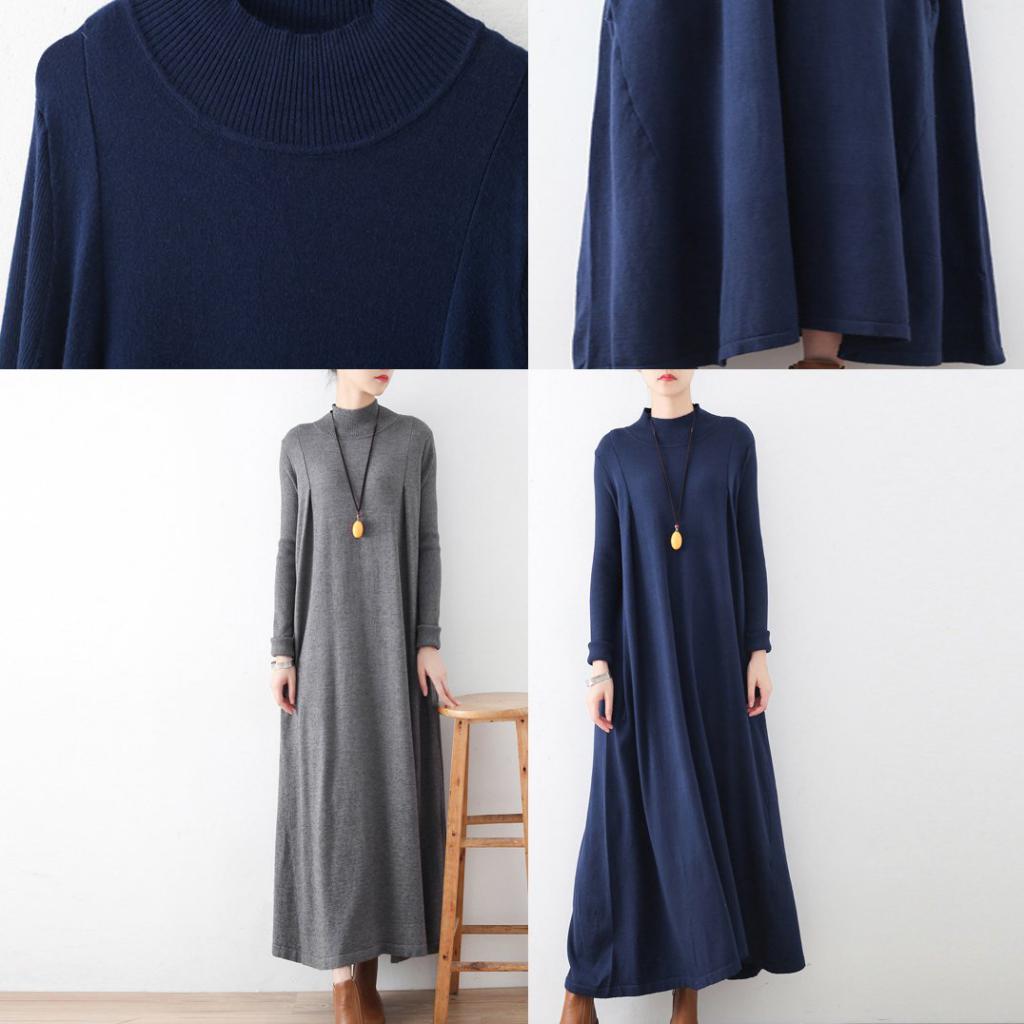 The most practical version of the dress for the cold season is, of course, a long winter dress. Today the most relevant dresses with a rectangular silhouette. Often the collar of such models is made like a turtleneck. This not only emphasizes the female form, but also perfectly protects the throat from hypothermia.
Choose warm winter dresses with long sleeves and to the middle of the ankle. Such models are perfectly combined with warm boots and bright tight tights. If you buy a monochrome dress, for example, white or gray, you can look every day in a new way, changing the color of tights and accessories. Also with such a dress is clearly no problem with the choice of a coat. If the coat is long, it will close the dress, and if shortened, the hem that is seen will not spoil the look either.
Oversized
A very current style of a warm winter dress is oversized, i.e. free cut or dimensionless. This option is suitable for both slim young ladies who want to add volume to themselves, and for ladies with curvaceous forms who would like to hide all the flaws in the figure. From the side, the oversize dress looks like a big men's sweater. But therein lies its appeal. Complement such a model of a winter dress with warm leggings and bright boots or uggs. Choose natural materials of fabric if you want to really warm up in such a dress.
Not to mention another very fashionable and popular style - a sweatshirt dress. This is a convenient and practical option for the cold season.
Dress for winter medium length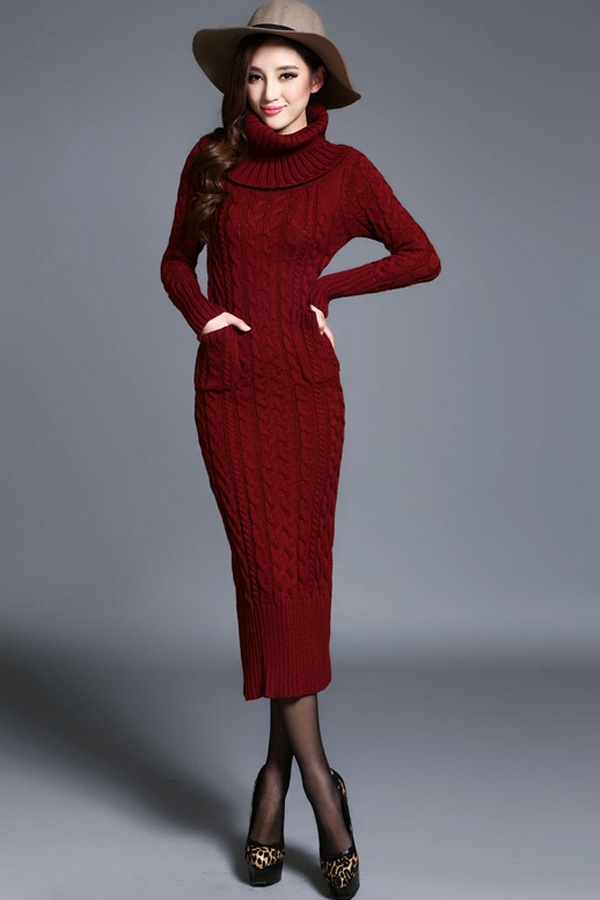 Despite the convenience of long dresses, not all women like these styles. If a woman works in a large company and is always visible, she should not forget about her appearance and try to look good. In this case, designers offer winter dresses to the knees or slightly below. Choose the model that best emphasizes your figure.It can be a fitted knitted dress or knit with a full skirt and fitted top.
Dresses of large knitting
Very cozy and comfortable can be in a dress of large knitting. Such models do not go out of their fashion, they can be seen in the collections of designers almost every autumn and winter. Moreover, it is not so important which model of winter dress you prefer: elongated and straight, oversized, short. The collar of such a dress can be anything: wide, semi-circular or with a neck. You can wear it with high boots or massive boots. This option is perfect for both work and for everyday affairs in the city.
Flannel Fabric Shirt Dress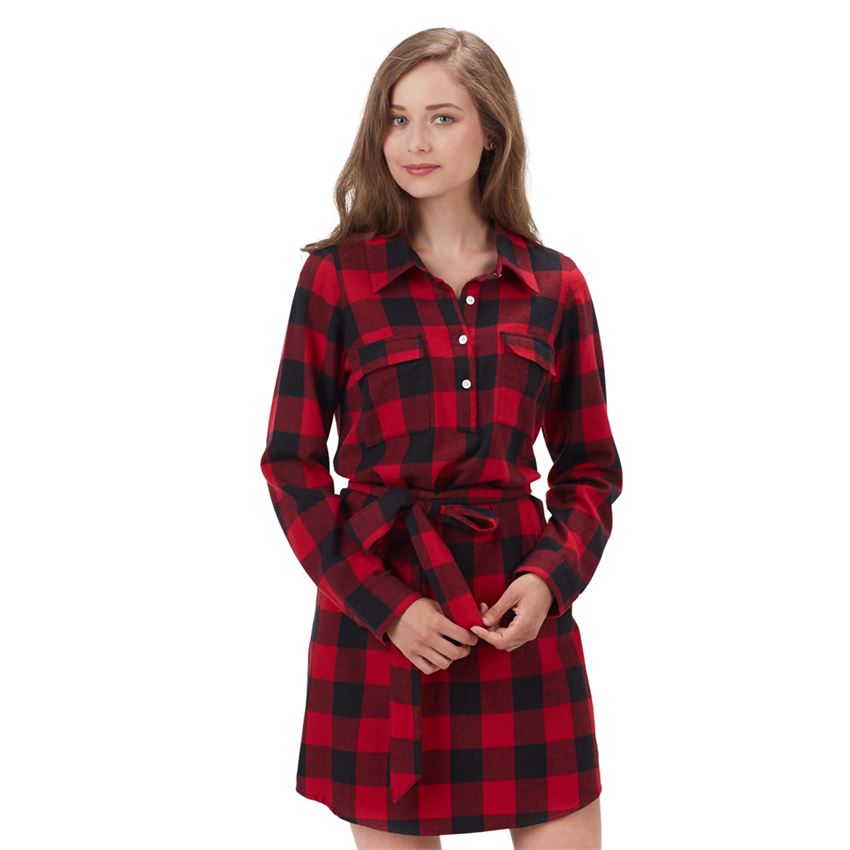 A legendary plaid shirt can be a stylish solution for winter bow. However, we are considering winter dresses. Therefore, the word "shirt", replace the dress. The essence remains the same: warm, comfortable, versatile and always true.
Choosing a checkered shirt dress from the flannel, you can be sure that you will not be left unnoticed. Rocker-style leather shoes and a small handbag with a chain will be a great addition. A down jacket and a cap with a pompon will complete a stylish look and will warm you in the chilly season.
Warm evening dresses
It happens that they invite you to some important festive event, but since it is snowing and cold outside, all light dresses are completely inappropriate. What to do? There is an exit. Designers of fashion houses have taken care of this, they offer warmed-up versions of evening dresses to fashionable women. For example, it will perfectly warm a long velvet dress. It will perfectly complement the fur vest. A dress made of thick knitwear with a flared skirt is also perfect.
Winter wedding
Choosing a winter wedding dress can be a real problem for the bride. Because on this important day for her, I don't really want to sacrifice beauty for the sake of comfort. When choosing a suit, the bridegroom is much easier; you just need to put the coat on top and it's ready. But what to choose a bride who intends to marry in the winter season?
Designers offer to pay attention to winter wedding dresses. Today, wedding salons offer a huge selection of beautiful models that allow you not only to look fabulously beautiful, but also to stay warm.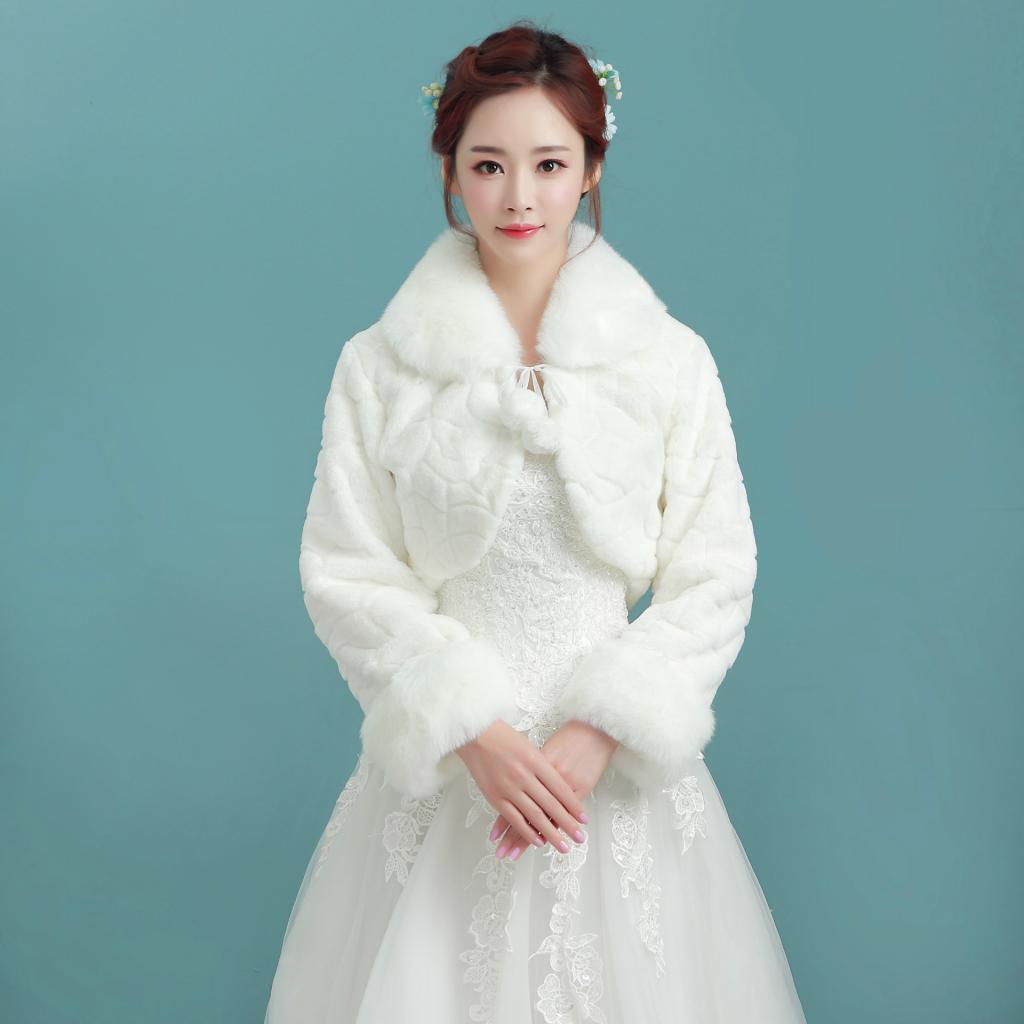 Fabrics such as thick satin, crepe, brocade and velvet are most popular when sewing winter wedding dresses.But there are many styles. However, the bare shoulders of the bride are unlikely to be appropriate at the winter wedding. Therefore, girls prefer models with long sleeves or 3/4. If the sleeve of the dress is long, then most often it is made of lace. Since such a decision does not weigh down the style and looks just amazing.
There is an opinion that short dresses and winter are not compatible. However, girls who, despite the cold, want to show their beautiful legs, choose short wedding dresses. In order not to freeze on this beautiful day, they complement them with warm boots, a short fur coat and long gloves. And if you add a white fur jacket to everything else, you definitely get a very beautiful and fabulous wedding dress.
Choose a bright shade dress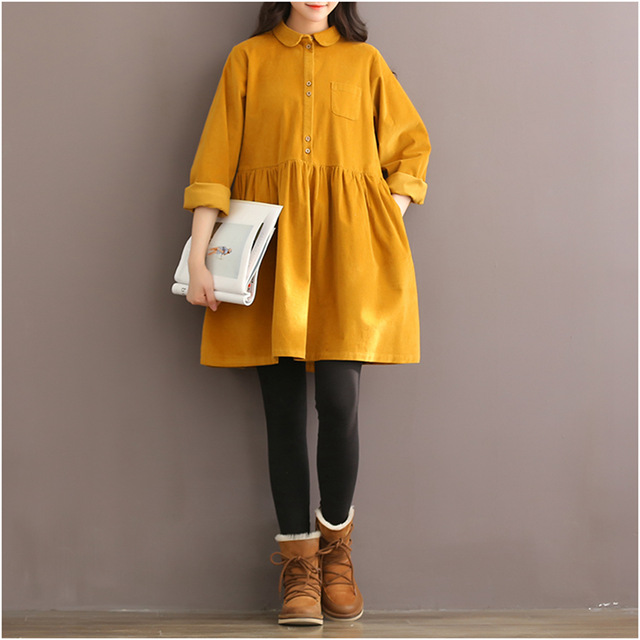 Since winter is the grayest time of the year, when neutral and practical shades prevail around, many people lack the brightness. Shortage of the sun affects both the mood and the general well-being of a person. Therefore, it's time to add the brightness of life. Winter dresses for women of bright colors will be a great alternative to annoying gray and dark shades.Not only that when choosing a dress in the cold season, the mood of the woman herself and the people around her rises, adding colors to it, you will get a double charge of energy. The photo shows a winter dress of bright cheerful color.
Today, designers offer a large number of dresses juicy shades. Going to shopping, pay attention to the red and yellow dresses. These cheerful colors are suitable for both blondes and brunettes. They do not require additional accessories. Shoes and tights, choose neutral shades, so as not to overload the image.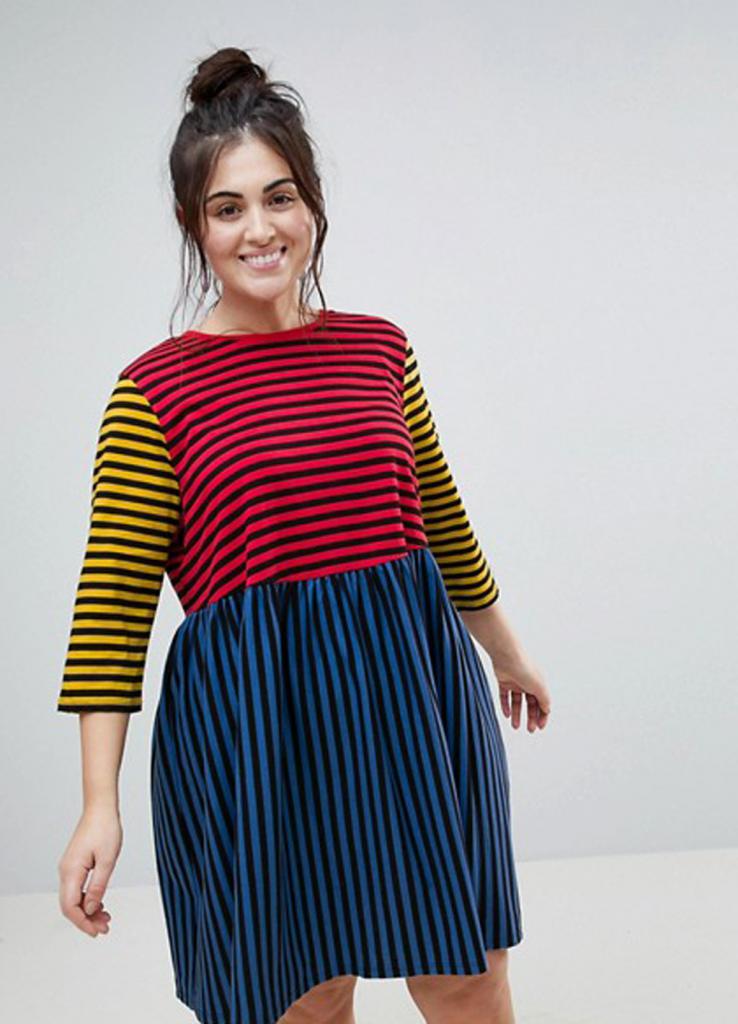 Perfectly uplifting and improving the well-being of the so-called natural colors: green, blue, blue. They are not as bright as red and yellow, but, nevertheless, perfectly emphasize the color of the eyes and lift the mood. Choose clean and fresh shades: the color of the sky, the first grass or the sea surface. If you want to experiment a little, add bright accessories to the dress. This may be a color bag or shoes. The combination of two bright shades is more suitable for self-confident women who are not afraid to stand out from the crowd and draw attention to themselves.
Related news
Winter dresses for women: photos of current models image, picture, imagery